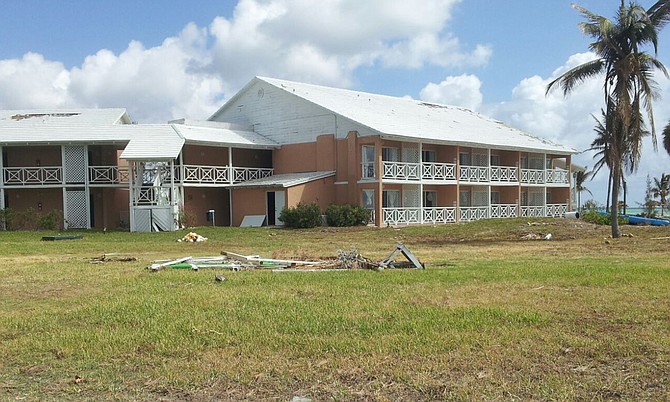 By DENISE MAYCOCK
Tribune Freeport Reporter
dmaycock@tribunemedia.net
GRAND Bahama's hotel and tourism industries have suffered a huge blow from Hurricane Matthew, which forced the closure of several resort properties on the island, including the two major anchor hotels in Lucaya.
Hundreds of hotel workers are out of work in the Port Lucaya area alone, where the Memories and Grand Lucayan Resorts are now closed due to hurricane damage.
It is déjà vu for Grand Bahama, which, in 2004, saw the closure of the 900-room Royal Oasis Resort following severe hurricane damage by Hurricane Frances. About 1,500 hotel workers lost their jobs, resulting in significant economic downturn and hardship in Freeport.
Unlike that property which has never recovered and remains closed, the hotels have started restoration and are expected to re-open within a month or two.
Restoration work has started at 496-room Memories, which is projecting to open on December 10. Its 500 workers in the meantime, according to the resort, will undergo extensive customer service retraining.
The Grand Lucayan Resort is expected to open on November 7. The 519-room property, which consists of Breaker's Cay and Lighthouse Pointe, is undergoing repair for significant roof damage.
Treasure Bay Casino also sustained roof damage. The boutique-style Pelican Bay Resort at Port Lucaya also had significant damage. Port Lucaya Marketplace, a major shopping hub in Port Lucaya, was also damaged, but the clean up is underway and merchants are awaiting restoration of power there.


Further east, the Taino Beach Resort and Viva Wyndham Fortuna Beach Resort also suffered major damage and are closed. While there is no opening date for the former, the latter is expected to open on November 14.
The Viva Wyndham property took a pounding during the storm and Sanitation Services were clearing away large pieces of debris.




In Freeport, while the Castaways Resort also sustained major roof damage to the fourth floor of its east building, its west building was not damaged and the property is still open for business, according to V C Grant, marketing and sales director of Castaways Resort.

Despite the devastation in West End, the Old Bahama Bay Resort sustained only minimal damage and hotel officials are awaiting both water and power restoration to open.

Magnus Alnebeck, of Pelican Bay Resort, said there was "substantial" damage at the 184-room property. The-four story Canal House suffered significant roof and water damage, but is now restored and opened for business.

He reported that 120 rooms can be used. "They are far from perfect and some have received quite substantial water damage, but we want to look after guests who need to be here for restoration of the island," he said.

"We received substantial damage and I think we could have done, which is so tempting, which is to wait for an insurance adjuster and send people home and file for big loss of business claim. But we are determined, and we realise we need a hotel in Grand Bahama to put up these people who are coming here to put our community back in order," he said.
Sabor restaurant and the bar at Pelican Bay are also open for business. Mr Alnebeck commended his staff for their quick response and helping with the cleanup efforts.
Restoration is also underway at the Garden of the Groves, the island's only botanical attraction. Tours are expected to commence on October 31.
The island's cruise arrivals have declined. Carnival Cruise Line has reviewed its itinerary and has made appropriate adjustments.
The Grand Celebration is still resuming ferry services from West Palm Beach to Freeport, and will be promoting two-night Bahamas cruises to the island.

Betty Bethel, director of tourism at the Ministry of Tourism, and Russell Miller, chairman of the Grand Bahama Island Tourism Board, could not be reached for comment yesterday concerning the state of the tourism and hotel industries on Grand Bahama.
"The tourism industry has taken the biggest hit than ever before," said Grand Bahama resident and well-known artist Mike Rolle, a guest on the 'Darold Miller Live' radio talk show broadcast from Grand Bahama yesterday.
He estimated that 800 to 1,000 hotel workers are out of work now in Grand Bahama.
"We know that it will take now at least a month before we can get some tourists in here," he said. "And until these tourists start to arrive, all those taxi cab drivers are not going to be working; all those tour operators are not going to be working and all persons working in the tourism industry are not going to be working.
"It is an uphill battle. We need to stop the fall and find a way to cause these tourists to start coming back again, and it needs to happen soon," he stressed.
For many years Freeport was referred to as the "Magic City," but now some feel that it is no longer a relevant epithet.
Mr Rolle that while the "Magicians of Freeport" have done wonders for the city, they are now dead. While he expressed the greatest respect for Wallace Groves, Sir Charles Hayward, Sir Jack Hayward, and Edward St George, the pioneers and developers of Freeport, he said they are dead and it is time for a new name - "Miracle City".