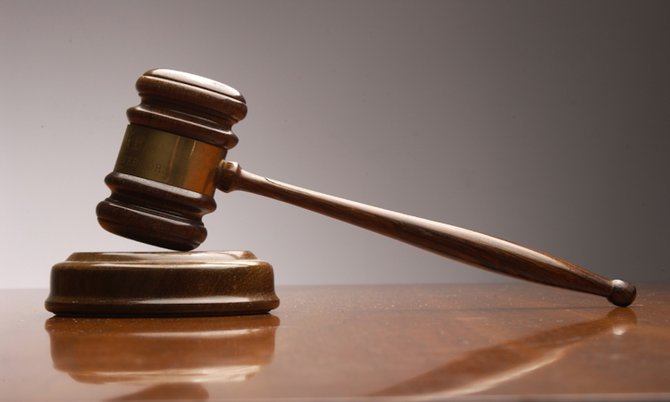 By LAMECH
JOHNSON
Tribune Staff Reporter
ljohnson@tribunemedia.net
FOUR men denied having involvement with the recent break-in and the theft of cash and items worth nearly $16,000 at the Sandilands Primary School during Hurricane Matthew in an arraignment in Magistrate's Court yesterday.
Delano Holnes, 31, and Mario Ferguson, 20, appeared before Magistrate Carol Misiewicz to face charges of shop breaking and stealing with two brothers, Marvin Brown, 22 and 18-year-old Justin Brown.
It is alleged that they, between October 5 and 6, 2016, broke into the Sandilands Primary School with intent to steal.
It is further alleged that they stole $2,000 in cash, six laptops, six desktop computers, eight anchor charts, three projectors, three printers, three monitors, two speakers, two microwaves, two refrigerators, two fans, a water cooler, a lawn mower, a wall air-conditioning unit, an alarm system, a plastic bin, $477 in assorted snacks and $1,000 in assorted clothing.
The cash, electronics and other items worth $15,926 were the property of the school.
Ferguson was also charged with the lesser offence of receiving as it is alleged that he dishonestly received a black HP monitor knowing it had been obtained from the commission of an offence.
The elder Brown was accused of dishonestly receiving three printers, two monitors, a projector, a fridge and a fan.
Reports of a break-in at the property first came in a statement by Fox Hill MP Fred Mitchell who said that computers from the school's computer lab were stolen and the principal's office was ransacked on the day the hurricane hit New Providence by persons unknown. Police investigated the matter.
At the arraignment, all four men elected to be tried in Magistrate's Court and pleaded not guilty to the charges.
The magistrate asked the accused men if they were employed.
Holnes, Ferguson and the elder Brown all said they were employed in construction while the other Brown sibling said he worked in the wholesale industry.
Tecoyo Bridgewater, lawyer for Ferguson and the Browns, made a complaint on behalf of the 22-year-old accused.
He alleged that his client was brutalised while in custody at the Fox Hill police station.
The magistrate made a note of the complaint before remanding all four to the Department of Correctional Services to await trial on November 7.
They were advised of their right to apply for bail in the Supreme Court.