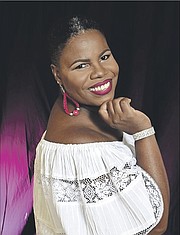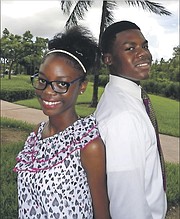 By JEFFARAH GIBSON
Tribune Features Writer
jgibson@tribunemedia.net
Had not been for a routine checkup last year, Kaffieanne Duncombe may not have been here today to share her story of waging battle against breast cancer. 
Mrs Duncombe was diagnosed with the disease on April 17, 2015 at the age of 44. Since then, her life has undergone drastic changes.
As can be expected when suddenly confronted with such a dire prognosis, Mrs Duncombe was overwhelmed with feelings of fear and worry. She had to rely heavily on the moral support of her husband, children, relatives and friends to make it through the day.
"My whole life changed that instant. I said, 'What am I going to do? Who do I need to call? I have got to pray'," she told Tribune Woman.
"I was afraid. I was discouraged and felt worried. There were so many emotions going on and I was so afraid. 'I am not going to make it', was just one of the thoughts that was on my mind."
But through all her worries, the determination to fight the disease shone through.
"You can't imagine the fight that went on in my mind and the battle for peace. The diagnosis of breast cancer will affect our whole family. My husband Marvin and my children Kendyll and Geneal were a part of our decision-making process and we devised a plan together as a family. We went into fighting mode. We started our own war room," she said. 
After being diagnosed with stage 2 breast cancer, Mrs Duncombe made contact with Tampa General Hospital.
"There, I spoke to the doctors who advised me to send all of the findings to them. We spoke to my primary care physician here in Nassau, Dr Pamela Carroll from Health Care Centre For Women. Dr Carroll was very caring and she also stood by side. She discovered the lump during a routine checkup. Right away she recommended a mammogram and an ultrasound. When she called and wanted to see me right away, I knew something was wrong. She was gentle in her approach and offered any assistance. She faxed all my records to Tampa and the journey began. The cancer was initially detected through a routine mammogram," she said. 
Mrs Duncombe has a history of cancer in her family. She lost her father, Hilbert Ferguson, to prostate cancer in August 2012, and her mother, Pearline Ferguson, to breast cancer in December 2014. 
"I watched both my parents suffer. It was really hard to see them go through that. It was just sad," she said. 
What helped her be brave enough to face fighting the disease was knowing she had a very strong support system behind her.
"I had and still have a very strong support system. In the person of my husband, Minister Marvin Duncombe, and my children, my sisters Florence, Tasha Kim and Kelly, and my one brother, Phillip, also give support. I also have some very close friends who stood along with me. Shona Knowles, Pastors Ericka and Mario Moxey of Bahamas Harvest Church. My doctors in Tampa, Dr Dandamudi at the Florida Cancer Specialist, Dr Effie Politis and RN Lorie Santiago from Florida Hospital North Pinellas," she said.
Mrs Duncombe said having the support she did became even more significant when she underwent her treatment process. The process began with undergoing a double mastectomy and a reconstruction surgery thereafter at Tampa General Hospital.
"The process after the surgery was very difficult. My husband brought me back home to Nassau where the doctors told me to take some time to heal. At about four weeks after the surgery we travelled back to Tampa to have the surgery to put the port in and to have the first round of chemotherapy. 
"We travelled to Tampa every 21 days for six months. My last chemotherapy was September 22, 2015.  The care and the treatment I received in Tampa was excellent. I had no worries about my medications and doctors. The nurses were professional and very caring. I received a shot of Neulasta after every chemo session. This shot was essential and decreased the chances of getting an infection by 99 per cent. I am still being watched closely by the doctors in Tampa by sending blood work up every three months and having a physical check up every six months. My next visit is December 4, 2016, " she told Tribune Health.  
Cancer classes Mrs Duncombe received at the Cancer Specialist in Florida also helped to prepare her for chemotherapy.  
"They told us how to prepare our foods, what to use to clean your tongue to avoid sores. Generally, how to take care of ourselves while on treatment. One thing that stood out to me is the fact that they told us to take charge of our sickness. They reminded me that we are in control of our mind, bodies and soul," she said.
"Well, to take charge of my sickness I made the decision to cut and shave my hair before it fell off. Watching it all fall of would have been too painful for me. My family and I came together while we were in Tampa and played music, laughed and cried. It was a moment I will never forget. The diagnosis of cancer is not a death sentence; people can survive. Early detection saves lives. At the Cancer Specialist there were programmes in place to encourage the patients to remain strong in the journey to become healthy. They also had a programme where you can choose wigs and use makeup just to cheer us up on the days we got low."
Despite the preparatory classes, the journey was still not without its challenges. As the treatment she received was very strong, Mrs Duncombe said she often felt weak and tired.
"I was unable to go out. Most of my time was spent resting and trying to regain my strength. I got tired quickly. It made sense to stay home and rest. But after a while you get to learn your body and each treatment got better. I experienced really bad bone pain. It was too difficult to explain; the pain was really bad. When I got the bone pain the doctor told me to take Claritin and Tylenol for the pain. That helped tremendously. My feet were swollen as well. Resting my body was the best thing I could do going through that chemotherapy," she said. 
Mrs Duncombe said she wants women and men to know that they should not underestimate the power of early detection as it saved her life. She wants to encourage others to get routines check-ups even if they have no history of cancer in their family. 
"God in his infinite mercies has extended tremendous grace to me and my family. He is indeed a wonderful counsellor, mighty, everlasting father and the prince of peace. He promised never to leave me and He has kept his word. The scripture verse that kept me throughout this ordeal was from Isaiah 43:2: 'When you go through the waters, I will be with you. When you go through the floods, it will not overflow you. And when you go through the fire, you shall not be burned, neither shall the flames kindle upon thee.' God has been faithful. He is indeed a healer. He is my glory and the lifter of my head. The joy of the Lord is my strength," she said.