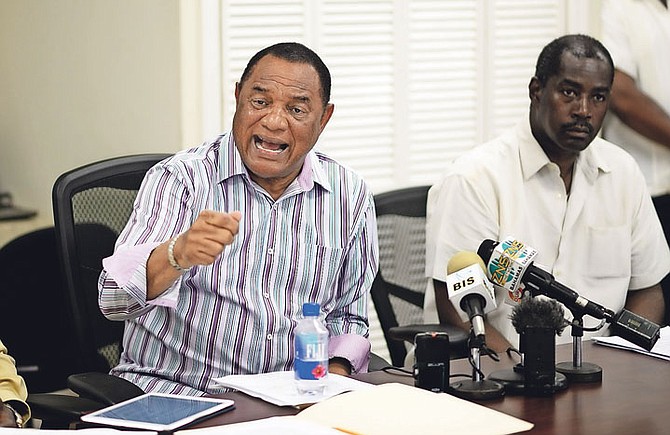 By KHRISNA VIRGIL
Deputy Chief Reporter
kvirgil@tribunemedia.net
AMID fiery criticism levelled at the government over Prime Minister Perry Christie's suggestion that there could be a special tax to assist the country in the aftermath of Hurricane Matthew, Cabinet yesterday discussed the feasibility of a sin tax on tobacco and alcohol to accumulate the necessary funding for repair and recovery efforts, The Tribune was told.
However, according to high-level government sources, this idea was rejected by the majority of Cabinet ministers who believe that to raise money, the Christie administration should consider avenues that free Bahamians from additional taxation.
Among these is the suggestion of a cruise ship passenger tax, which would ensure local taxpayers are not subject to further tariffs, the source explained to this newspaper. Cabinet has not made a final determination on the issue, The Tribune was told.
But while the possibility of a new hurricane tax was met with backlash yesterday by Bahamians who voiced their concerns on social media, the idea was welcomed by staunch Progressive Liberal Party (PLP) members who praised the prime minister for advancing a suggestion that could be the country's solution to recovering from the devastation caused by Matthew.
Among these was PLP Chairman Bradley Roberts.
He was adamant that a "temporary tax" was the key to the dilemma the government now faces.
"Should we pull the needed money from the skies? Do the critics have an alternative programme to raise the money we need? I can tell you that many of them don't," Mr Roberts said when contacted yesterday.
"I understand that there were a lot of critics voicing their concerns today (Tuesday). We then have to ask if they are concerned about the restoration of our country. I am open minded to any suggestion of an alternative programme.
"We've got significant damage and the money has to come from somewhere. With all we are facing now, are we then to forget our brothers and sisters whose lives have been turned upside down?"
He added: "I want to hear some alternative programmes from these critics. It is traditional in societies like ours. It would only be a temporary measure to address the situation."
Former PLP Cabinet minister George Smith also welcomed Mr Christie's special tax suggestion, but said he would go further to suggest that the government insure all of its buildings and spaces so that in the event of a natural disaster, there would be no disruption of the budget cycle.
Mr Smith said: "I am delighted that the prime minister has put forward a suggestion. I think that this is the time for us to come up with innovative ideas.
"I support something that was advanced recently by a columnist who suggested that Parliament should move for the appointment of a committee to have broad authority to travel from place to place to go wherever hurricanes have hit not just recently, but in the past so they could get a good clear appreciation of the damage and the long term effect of these damages."
He continued: "What about examining and ensuring all public buildings, public parks, public roads, public spaces and for the government to underwrite the hurricane damage particularly in places where people lack the ability in many of the islands where they live on generation and other properties?

"Where the government insures those houses and in the low lying areas, insure against flood and we pay a tax or add a percentage or use a percentage of the real property tax or a small national insurance tax towards paying for this insurance annually?
"By doing this we can get quite a bit and ensure that the Commonwealth of the Bahamas' public lands, public buildings, public parks and open spaces are covered," Mr Smith said. "The government can underwrite the homes for instance of less than a particular value of for example $30,000, $40,000 or $50,000 so that if a hurricane hits, the insurance comes."
On Monday, as he toured areas of New Providence that were hard hit by Matthew, Mr Christie said if a tax on "some item" were imposed, it would be done in a way that has a "minimal impact on people."
At the time he said: "We have to give serious consideration to a more effective way of financing the loss that the country has experienced because we're also paying now for Hurricane Joaquin and it may well be that we have to give consideration to a selective approach to raising money by taxing some item that would be of minimal impact on people. But it's a matter we have to look at because it's an enormous challenge to the country. We've been faced with downgrading. This is not an easy situation. We thought the way was clear with Baha Mar. But now we have Hurricane Matthew."
Mr Christie previously talked about the government's intention to create a $150 million Hurricane Reconstruction Bond that would assist people, as well as small and medium sized businesses impacted by the hurricane and to help accelerate reconstruction efforts.
Mr Christie also announced on Monday that Urban Renewal 2.0 will be expanded to strengthen recovery efforts.
Currently existing in only 11 constituencies, the programme will expand to the other areas in New Providence to help authorities gain command of the issues affecting residents and to provide fast response to their needs.