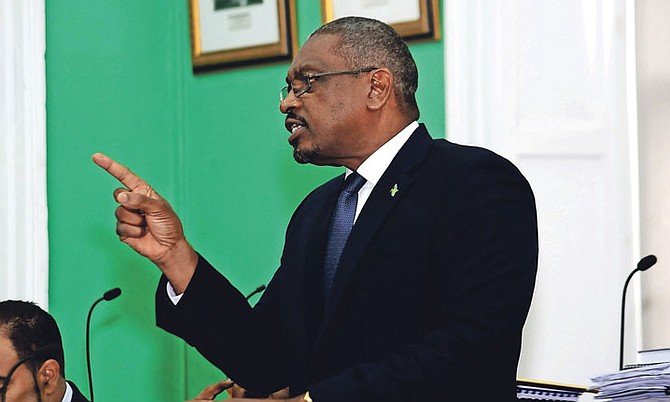 By RASHAD ROLLE
Tribune Staff Reporter
rrolle@tribunemedia.net
OPPOSITION Leader Dr Hubert Minnis said the Free National Movement is opposed to any possible attempt by the Christie administration to implement a new tax to cover the cost of damage from Hurricane Matthew.
Prime Minister Perry Christie told the media Monday that the government may have to consider introducing such a tax, noting that the country's finances are strained and the Bahamas faces credit downgrade threats.
The Tribune understands a tax introduction was discussed in Cabinet yesterday, though no final decision was made. Government insiders also said a "sin tax" on items like alcohol and tobacco has been considered.
Bahamians, nonetheless, reacted with anger across social media yesterday at the idea that a tax would even be contemplated.
And for his part, Dr Minnis said: "People are suffering enough. They have VAT and we can't account for how it is being spent. The Bahamian people cannot trust this government. We will not be inflicting more pain and suffering on the Bahamian populace. You cannot tax your way out of suffering.
"People can't buy water, food, clothing and you want to increase (poverty) further?"
Dr Minnis said the government should decrease public waste and control spending rather than consider a new tax.
Mr Christie has estimated that the damage from Hurricane Matthew will cost the country three to four times more than the devastation left by Hurricane Joaquin last year, which was pegged at around $100m.
Meanwhile, FNM Deputy Leader Peter Turnquest warned that even a sin tax could adversely affect the country.
"While I don't have a huge difficulty with a sin tax," he said yesterday, "I also recognise people are employed in those industries. The extent to which we make products unaffordable, that will affect businesses involved and unemployment could go up. While we can extract as much as we can from those, say, luxury items, we have to ensure we don't put more on people than they can bear."
In a lengthy statement yesterday, the Democratic National Alliance (DNA) also rejected the idea of a new tax, saying the party isn't comforted by Mr Christie's pledge to ensure such a tax, if implemented, has a "minimal impact" on people.
"Over the past four years in office, we the people of this country have watched as the Christie administration has overseen millions in government wastage, mismanagement and reckless spending," DNA Leader Branville McCartney said.
"Newspaper headlines have been littered with stories about theft and financial misappropriation of tax payer funds and resources––all of which have gone unpunished––while millions of dollars in cost overruns for Bahamas Junkanoo Carnival have been dismissed as par for the course by organisers of the event. In the face of such financial ineptitude, how and why should Bahamians be required to pay an additional tax because of the government's failure to properly plan for such natural disasters?"