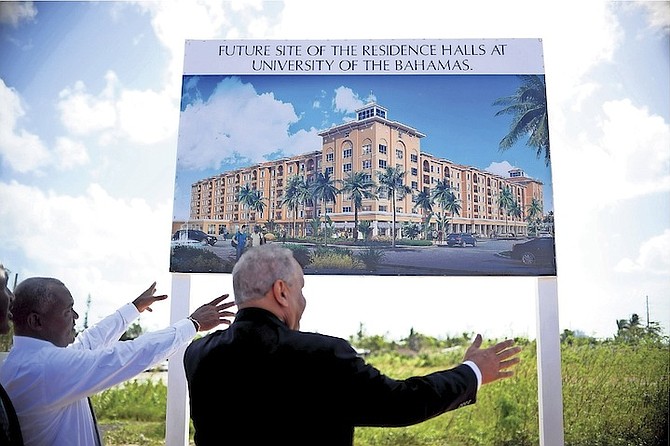 By NICO SCAVELLA
Tribune Staff Reporter
nscavella@tribunemedia.net
COLLEGE of the Bahamas officials yesterday inked a contract with a local investment management firm for the construction of a near $100m, 1,000 bed on-campus residential hall, something officials said is a "major tool" in helping to further augment the college's transition to university status. At the Harry C Moore Library and Information Centre yesterday morning, COB President Dr Rodney Smith said signing the contract with Providence Advisors Ltd signifies a "tremendous change" and "transformation" for the college as it draws nearer to its November transition deadline. 
According to officials, ground is expected to be broken for the construction of the residence hall by mid-summer 2017, with an aim to completing the residence hall by Fall 2019. 
"We're at a point now in our history when we're about to jump to another level," Dr Smith said. "We're about to make a significant change on this campus that's going to help to change what is happening in the entire country. 
"We are in a rebuilding mode in our country after a devastating hurricane. But simultaneously, we are building for the future of this country. And that's what this residential hall means." 
According to officials, the residence hall will feature study rooms on each floor, a "food court" styled dining facility and a state-of-the-art fitness facility. Additionally, Dr Smith said a parking deck will accompany the building, along with retail stores. 
"It's going to be a tremendous change, a transformation," he added. "We're talking about economic development as well, we're talking about recruiting more international students to our campus, we're talking about giving our Family Island students more of an opportunity for an education."
Dr Smith said, for years, COB has been able to house just 60 students, the majority of whom he said are usually Family Island students. However, he said, COB usually ends up with a waiting list of "well over 200 students", something that should be alleviated with the construction of the new residence hall. 
"This building is also going to allow us to begin recruiting international students," he added. "Students have already told us from around the world that if we had a residential hall here in the Bahamas they would be here without question. Students who have visited this campus want to come back as students as well. 
"So we are indeed exceptionally excited, not only for the fact that we're making a transition that is changing this institution, but also the lives of many people, and it's actually putting a feather in the cap of The Bahamas totally." 
Dr Smith also announced that COB has amended its University of the Bahamas Charter event schedule so that those attending and other personnel can devote most of their time to assisting relief and recovery efforts for those most impacted by Hurricane Matthew. 
According to Dr Smith, the list of scheduled events will now start on Sunday, November 6, with the Thanksgiving Service at the Christ Church Cathedral, and end on November 11 with the road renaming ceremony at the Oakes Field Campus. 
"While the charter day of the University of the Bahamas is an historic milestone of national, regional and international significance, we are compelled to ensure that this transition is observed in a manner which reflects our restoration priority," Dr Smith said.