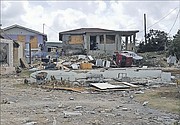 By NICO SCAVELLA
Tribune Staff Reporter
nscavella@tribunemedia.net
RELIEF and recovery efforts are "coming along pretty good" in North Andros in the wake of Hurricane Matthew, with government officials yesterday claiming that a sense of "normalcy" is finally beginning to return to residents of the battered community. 
Leonard Dames Jr, assistant Administrator for North Andros, told The Tribune that the district is "100 per cent different" than it was two weeks ago when Hurricane Matthew decimated the island. He attributed the feat to a "massive clean up campaign" by government officials and others.
Mr Dames also said those displaced by the storm, which he estimated to be 304 people - adults and children - have consistently been "well fed" over the last two weeks thanks to 720 meals being distributed per day by Royal Bahamas Defence Force (RBDF) personnel from a "container city" in North Andros. 
Mr Dames also said that container city has the capacity to produce 24,000 gallons of water per day, which he suggested has been more than enough to supply not just those in North Andros but residents in Central Andros as well. 
Additionally, those displaced residents whose homes are uninhabitable have been put up by the Ministry of Social Services in apartments, motels and "wherever else they found spacing," he said.  
Mr Dames said while there are a few areas in North Andros that are still without power, Bahamas Power and Light (BPL) crews have been working "around the clock" and have managed to restore power to Nicholl's Town, the main road leading to the San Andros airport, and are now working their way into Mastic Point, Morgan's Bluff and Lowe Sound. 
However, Mr Dames said officials in North Andros are currently in need of "building materials" as they move into "construction mode" in the constituency. "We're getting to normalcy in terms of food and water," he said. "But you know there's also needs here in terms of building materials and other things as time goes by. 
"We don't have them now, so we need those things," he added. "But for right now and the immediate relief, in terms of persons having something to eat and clothing, we have a handle on that." 
Mr Dames said the contributions by various government agencies, such as the National Emergency Management Agency (NEMA), as well as the assistance of "private persons" has helped the restoration efforts in the constituency. 
"We have a NEMA office set up here, and we have responsibility for Northern and Central Andros," he said. "We have a Defence Force vessel that comes in every couple days with supplies and we distribute it. Half goes to Central Andros and half comes here in North Andros. 
"We have Social Services on the ground, (the Bahamas Red Cross Society) on the ground, and volunteer persons," he added. "The items that come in through NEMA, we have a central command centre. Everything that comes in at the central location, it goes out of central command centre, and we have Social Services volunteers that are distributing the food. 
"They did their assessments already so they know exactly which areas to target. They package (goods) and they put them on trucks and they go personally and deliver them. And even though those stuff are delivered at the central command centre, we still have an abundance of water, so persons drive up and get water also."
North Andros was one of three locales throughout the country that were catastrophically damaged by Matthew. Based on initial estimations offered by Prime Minister Perry Christie during a recent tour of the island, the devastation in Lowe Sound alone could cost more than $10m.  
Last week, many North Andros residents described the state of their lives as "battered and not done" in the wake of the category 4 storm. 
The Tribune's tour of settlements in North Andros at the time revealed how homes were rendered too frail, twisted pieces of steel, wire and rock. Additionally, business and recreational spaces had been washed away from the surface of the surrounding community in some areas. 
Residents described how rip tides and storm surges in Lowe Sound pushed sea water as far as a mile inland in areas, and in some cases, surges of some ten feet above normal sea level. 
The Tribune's tour of the various communities at the time also showed how the magnitude of the surges levelled homes and ripped through power lines.