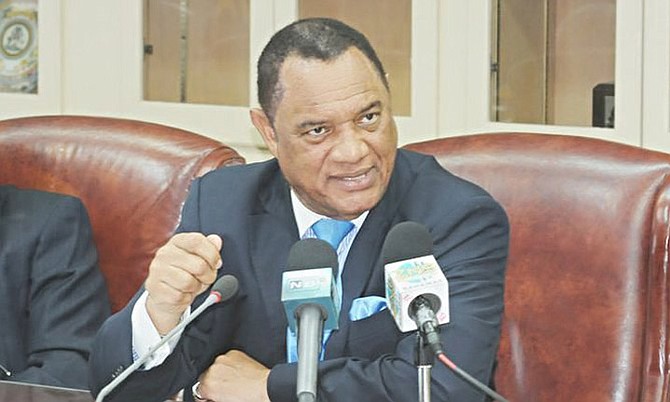 By TANEKA THOMPSON
Tribune News Editor
tmthompson@tribunemedia.net
THE Progressive Liberal Party appears to be toying with the idea of postponing its national convention for the third time in two years, again under the guise of needing more time to help constituents recover from the damage wrought by a hurricane.
It goes without saying that every Bahamian has been touched by Hurricane Matthew.
For the more unfortunate members of our society, the ferocious storm left them without a roof over their heads, their possessions destroyed and their spirits depressed. Many are still without electricity and running water and will be so for weeks, if not months.
It will take years for those most affected by the storm to recover, but recover we will and we must.
But the governing party cannot use another natural disaster as an excuse to delay democracy. The party has not held a convention since 2009, even though its constitution mandates that one be held every year.
Party members deserve an accounting of how internal funds have been spent and those holding office should be called to explain how they have been performing in those functions. The party's controversial leadership race needs to play out, even though the status quo will almost definitely remain the same after the votes are counted.
And perhaps most importantly, the country needs to hear the PLP's platform for the next five years and get an assessment from party officials on its handling of public affairs during this current term as we head into an election year.
If nothing else, the PLP, and by extension Prime Minister Perry Christie, need to shake the stigma of being "late again," constantly delaying events and policies that might prove to be unpopular instead of getting on with the hard work of getting things done.
Last week Minister of Tourism Obie Wilchcombe laid out a compelling case for another postponement: many of his constituents were hard hit by the storm and are picking up the pieces of their lives. The last thing they are worried about right now is the pomp and pageantry associated with a political event.
"This morning when I was listening to (my) pastor . . . in our morning prayer he talked about priorities," Mr Wilchcombe, who represents West Grand Bahama and Bimini, said in the House of Assembly on Thursday.
"There is something that we have to consider, Mr Speaker, and the PLP has to consider. And I say so because my constituents are asking me. And they are very concerned about it - should we move the convention? That is a very serious concern. Do we go to convention next month?
"My constituents don't think we should, Mr Speaker, because how do you go to the convention next month? That's my constituents, Mr Speaker. At the end of the day I don't support it either. And you know why, you all don't have constituents that you have to ensure come to New Providence. That is an issue that has to be raised and we have to look at it. We cannot, Mr Speaker, not deal with it."
While his argument may resonate with some, the fact is one can find any reason to put off matters of national importance. But it is the role of the government to juggle arduous tasks and basically be able to chew gum and walk at the same time.
On Sunday, PLP Chairman Bradley Roberts told this newspaper that the issue of postponing the party's convention would likely be discussed at internal meetings this week. If there are persuasive arguments to shelve the convention, the matter will have to be decided on at the PLP's National General Council meeting this Thursday, he added.
This came less than two weeks after he told The Tribune that there was "no consideration being made" to postpone the anticipated convention.
If this were the first time the party was eyeing a postponement it would be understandable. But the PLP has a history of pushing its convention to the backburner when it is convenient in order to give "priority" to other matters.
Initially, the convention was planned for November 2015 but was rescheduled for April 2016 because of Hurricane Joaquin, which pummelled the southern islands last October.
Then the April date was rescheduled to later this year to give attention to the June referendum on gender equality. That referendum - which was also delayed multiple times - failed despite the government's momentous push in the fourth quarter to sway voters.
With a general election to be held by May 2017, it does not make sense to push the convention off any longer.
If the governing party is concerned about the feasibility of delegates in Grand Bahama having the resources to make it to the capital for a week to participate in the festivities, then it can do as former Attorney General Alfred Sears has suggested to this newspaper – host the event on that island.
Not only would it eliminate the transport concern, but it would also give the island the economic boost it needs at this time, with money spent on hotel and travel related expenses for the convention.
Or the PLP can pare down the convention, reducing the number of nights from seven to two or three. Some of the money used for hosting a weeklong political event could surely be put to better use by donating to relief and recovery efforts.
Whatever the party decides, I hope that another convention delay is not on the table.
• Email comments to tmthompson@tribunemedia.net