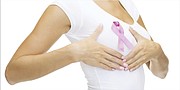 By JEFFARAH GIBSON
Tribune Features Writer 
jgibson@tribunemedia.net 
With the firm belief that early detection can save lives, a local foundation is doing its share to ensure women are educated about breast cancer and take a proactive approach to their health. 
The Island Luck Cares Foundation has partnered with the Fourth Terrace Diagnostic Centre Centreville to launch "Check It to Catch It", a free mammogram screening campaign for all of its Island Luck female card-carrying members through the month of October until November 31. 
The aim of this initiative is to make mammogram screening accessible to as many women as possible. The foundation hopes that by reaching out to its 70,000 strong customer base, more people will be made aware and get tested early, which can potentially lower breast cancer related deaths among Bahamian women. 
During a press conference held last Thursday to announce the programme's launch, Island Luck CEO Sebas Bastian said this cause is extremely important to him given that he lost is father to cancer several years ago. 
"So I know the importance of early detection. Had my father been scanned at an early stage he would have probably been here today. This was one of the driving forces for us coming on board with his initiative because he who sees it knows it," said Mr Bastian.
"You never know the importance of a thing until it hits home. The 'Check It to Catch It' initiative is going to go a long way with our large customer base to make them aware."
Dr Elizabeth Darville, of the Fourth Terrace Diagnostic Centre, said all women who are at the appropriate age to be screened should take advantage of the "Check It to Catch It" programme.
"It is very important for people to get tested before you find something so that you would be in the category of women who can be cured rather than in the category of women who we can only help for a little while. So we are talking to people who are healthy, who don't know anything is wrong, who are fine. These are the people who need to get tested. We would just like everyone to come leaving with a peace of mind that nothing is wrong," she said.  
Dr Darville said many Bahamian women have the BRCA gene that increases the risk of breast cancer by 65 per cent, which is all the more reason for women to get tested. 
"Testing for the BRCA gene is very expensive and so everyone isn't able to get tested. But everyone is able to get a mammogram. Some women need a mammogram and an ultrasound, while some women only need an mammogram," she said. 
"Mammograms should be done at age 35, but if you feel something is wrong before you are 35 then you should go to a doctor have your breast examined and then have a breast study done. Your breast study would begin with an ultrasound. So I would encourage everyone to take advantage of this opportunity that Island Luck Cares is providing and I am encouraging that."
Women who have not reached the appropriate age to have a mammogram, she said, should conduct their breast self-examinations at home. 
"Breast cancer detection begins with you. You know when nothing is wrong and you know when something is wrong. Whether you think that something is wrong or not, you should begin your self-examination in your mid-20s," said Dr Darville. "It is best to do it in the shower. It is best to have someone show you how to do it, but even if you don't know how to do it, you know your own body, so just feel. And if there is something that wasn't there before, you will know. Most people at that age would have a cyst that comes and goes, lumps that come and go, so you have to be aware that if this month you find something, check and see if it is there next month."
The Fourth Terrace Diagnostic Centre is open Monday to Friday, from 8.30pm to 5pm, and on Saturday from 9pm to 12pm.