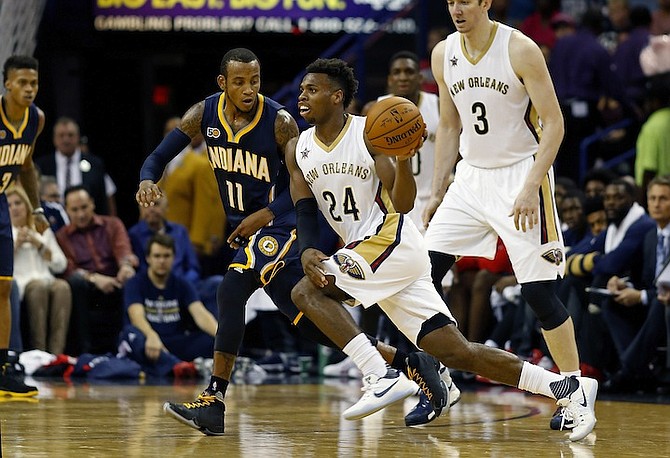 By RENALDO DORSETT
Sports Reporter
rdorsett@tribunemedia.net
NEW ORLEANS, Louisiana - Set to make his debut tonight for the New Orleans Pelicans, Buddy Hield noted the adjustment to his preparation and his game day routine at the NBA level.
Following the Pelicans' shoot around ahead of tonight's season opener against the Denver Nuggets at the Smoothie King Center in New Orleans, Louisiana, Hield discussed feeling out ways to implement his customary work ethic.
"I have to find my routine out because I'm new to this so I have to work on what routine is good for me. I went to the gym last night to shoot just to try to get my regular routine before game day to find out what is right for me. I'll probably come to the games earlier just to get some shots up and rest up before the game," Hield said.
During his senior season at Oklahoma, Hield was notorious for spending the entire day in the gym getting shots up prior to Sooners' games. It's a practice he said he would have to tailor with the grind of an 82-game NBA regular season.
"Home games I would just stay in the gym all day, try to keep my repetitions up, you know, a shooter's mentality," he said. "I want to keep it [the pregame routine] but they say it's not good because of the amount of games, but that's what got me here so I'm going to try not to forget about what got me here so I'm going to try to keep doing it for as long as I can."
Hield will come off the bench tonight in his debut and the season opener for the Pelicans when the teams tipoff tonight at 8pm local time.
It follows a productive preseason where he averaged 12.5 points per game on 43.2 per cent shooting from the field and 29 per cent shooting from three. He also added 3.5 rebounds, two assists and 1.3 three-pointers made in 27.3 minutes per game.
"No nerves at all, maybe when it comes to game time I will feel it but right now I'm just calm and relaxed," Hield said, "I'm just thankful to be in this situation. A lot of guys dream to be in the NBA and play here. I'm just thankful to God for the opportunity."