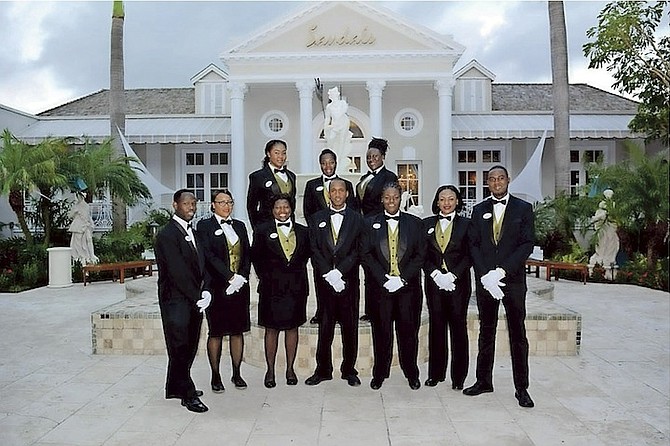 SANDALS Royal Bahamian re-opened its doors on Tuesday with a complement of nearly 500 staff members and guests in 75 rooms following a multimillion dollar makeover that began in mid-August, the resort said.
Hundreds of staffers underwent training preparing for the soft opening originally scheduled for mid-October but delayed by about 10 days due to Hurricane Matthew.
According to Sandals Royal Bahamian General Manager Gary Williams, the re-opening went smoothly.
"We're very pleased to announce the reopening of the hotel with a refreshed property and staff," Mr Williams said. "This morning (Tuesday) we welcomed our first guests at 7am, Mr and Mrs Blodgett hailing from Nevada. The Blodgetts have visited our various Sandals properties 28 times, with 20 being here at Sandals Royal Bahamian Spa Resort, so it was only fitting that they were our first guests today. By November 1, the hotel will be full and we are looking forward to giving our new and returning guests a renewed Sandals experience."
During the renovations, more than a dozen Bahamian companies were engaged to work on repairs that were so extensive the hotel had no option but to close, according to an engineer's report, the resort said.
According to a press release from Sandals, hotel sources were taken by surprise – the closure came in August as the Cable Beach luxury-included all-inclusive was enjoying nearly 100 per cent occupancy and was facing a nearly fully-booked property for the next several months.
Many guests were invited to stay at Sandals Emerald Bay in Exuma with extended stay packages and airline change fares picked up by the company, the press release noted.
Some 60 Sandals team members were transferred to the Exuma property and offered complementary housing to accommodate the increased number of guests. Throughout the process, spokespersons for the award-winning resort chain, the largest in the Caribbean, said morale remained high. "Everyone is showing tremendous enthusiasm," said Jamaica-based Director of Corporate Services Jeremy Jones. "There is a real spirit of rejuvenation, a pride in being part of something historic and something new all at once."