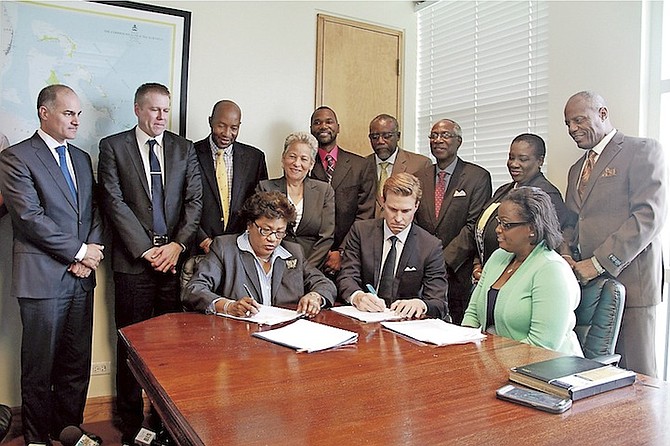 By NICO SCAVELLA
Tribune Staff Reporter
nscavella@tribunemedia.net
THE government yesterday signed a contract for nearly $20m with a Finnish company for the acquisition of four new Doppler radars, something local meteorologists said will give the Department of Meteorology "no excuse" for not being more accurate with weather forecasts and tracking weather systems.
Transport and Aviation Minister Glenys Hanna Martin, during a contract signing ceremony, said the purchase of the four radars from Finnish company Vaisala signifies a "technological injection" that will arm the Met Department with the necessary tools for its work.
In addition to acquiring the four new radars, Mrs Hanna Martin said new "airport weather observation systems" will be installed that will automatically provide weather observation that complies with international aviation standards to air traffic controllers and pilots.
Additionally, Mrs Hanna Martin said the Christie administration hopes to have further dialogue with Vaisala over refurbishing the country's lone Doppler radar, which she said is still a vital component in the creation of a "network of Doppler coverage" in the country, despite it being a decade old.
The acquisition of the four Doppler radars cost $19,136,110, Mrs Hanna Martin said. The agreement with Vaisala comes with a five-year service agreement, in which the company will assist local met officials with the maintenance of the radars. Additionally, Vaisala officials said the Finnish Meteorological Institute also will be involved in "developing further the capacity" of local meteorologists.
The four new radars will be installed in New Providence, Abaco, Long Island, and Mayaguana, in that order, according to senior met officials. Vaisala officials estimated that the radar for New Providence will be fully operational by February.
"This was a major decision by the government in terms of priorities. It's a lot of money," Mrs Hanna Martin said. "But it was made because we understand that we are a small island developing state, that we are vulnerable. That we are seeing weather patterns changing and more ferocious hurricanes and storms that we are being affected by directly, that it is actually impacting us in material ways.
"And as a consequence this investment was absolutely essential to ensure that in terms of weather and the ravages of weather, that we are able to ensure that our people are not made vulnerable by lack of information or lack of analysis of what is happening."
"…This is very important because it is a loud statement that we are expressing as a matter of policy, that weather, and our vulnerability to the ravages of weather, is something that requires the attention of the state, the resources of the state, so that our people can enjoy a higher quality of life."
Director of Meteorology Trevor Basden said once all of the radars have been installed, their collective network of coverage will span the entire Bahamian archipelago, as well as some parts of the Turks and Caicos Islands, and some parts of Cuba.
"We have now been given essential tools that would allow the Department of Meteorology to advance Met in the Commonwealth in the Bahamas," he added. "So you can be expecting more accurate weather forecasts, more detailed information on exactly where rain is falling. This new technology is cutting edge really.
"We're at the forefront even I would say in the world now with these systems. So water spouts, tornadic activity, every meteorological hazard, the Department of Meteorology would now be in the position to forecast and also to nowcast to give information, especially when we work at NEMA, to be able to give information right up to five minutes or less on where rain bands and tropical cyclones might be."
Aleksis Kajava, Vaisala regional director for Latin America and the Caribbean, commended the government for displaying "extreme urgency" in its attempts to better augment the country's weather tracking services.
"We feel very honoured, very responsible for being able to help you," he said. "I assure you we are a responsible company. We have been in the business for more than 80 years, and that's not by accident. It's because we take care of the customers and projects we have and we don't leave them alone."
When asked for a timeline for implementation, Mr Kajava said: "We have already taken some measures to be able to manufacture the first radar, record quick for us, and it means it will be ready at the factory in December, but then it will take quite a bit of time to ship it by sea freight to the Bahamas where it will arrive in January.
"Then it will take approximately a month to have it installed. We will also build new infrastructure for the radar, a new tower, and all that takes some time. So we expect that in February the radar will be fully operational here in New Providence.
"And also we can accelerate certain other phases of the project, but we have to agree obviously on those together with the Bahamas, Department of Meteorology and the Ministry of Transport and Aviation on how and when we should proceed with all of the stages."
The government first announced plans to strengthen the country's weather tracking service in November 2015.
The need for the radars came to a head following the passage of Hurricane Joaquin last year when the Department of Meteorology came under fire after some forecasters claimed the Doppler radar was allegedly not functioning for several hours during the storm's passage.