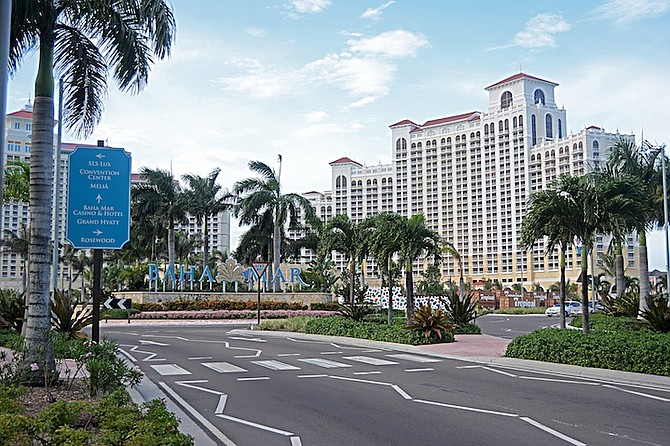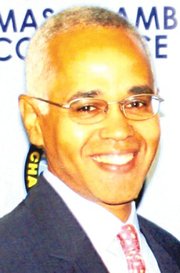 By AVA TURNQUEST
Tribune Chief Reporter
aturnquest@tribunemedia.net
FORMER Baha Mar Director Dionisio D'Aguilar declared yesterday that the recently announced prospective buyer of Baha Mar, Hong Kong-based Chow Tai Fook Enterprises, is "unsuited to invest in The Bahamas".
In a missive directed at Progressive Liberal Party Chairman Bradley Roberts, Mr D'Aguilar pointed to the Cheng Yu Tung family's - owners of CTFE - inability to obtain casino licensing in two US states, and its alleged "well-documented connection to organised crime in Asia".
When contacted before Mr D'Aguilar's statement was released, Tourism Minister Obie Wilchcombe said the government has not received a letter of intent to operate a casino from CTFE, but expects such a proposal to be sent within the next two days.
Mr Wilchcombe told The Tribune that upon receipt of the LOI, the government will begin due diligence on the Hong Kong conglomerate to ensure that any decision made is in the best interest of the country, the Bahamian people, and the gaming industry.
Responding to widespread demands for more transparency from the government on this matter, Mr Wilchcombe explained that the government has only had two preliminary meetings with CTFE.
"We have had preliminary meetings with the group," Mr Wilchcombe told The Tribune. "We are aware that they are operating in several countries as partners in casinos, and as operators in others.
"We've met with them twice, just to determine the extent of their involvement globally. They have major brands under their company, so we were very enthused by that.
"Of course we will do our due diligence to ensure whatever decisions are made, are made in the interest of not only the Bahamas and Bahamian people but also the integrity of Bahamian gaming jurisdiction."
Mr Wilchcombe said the due diligence process will take at least three weeks.
"Because we've had discussions," he said, "we know the company's global involvement, their involvement in gems, in the airline industry, in the hotel industry. We are aware of their growth and development over many decades, so you have to look and determine to what extent they can impact your brand."
CTFE is owned by the family of the late Cheng Yu Tung.
Mr Tung, a jewellery tycoon, was a Hong Kong billionaire who died last month – September 29 – at the age of 91. The year before his death he transferred his personal holdings in six Hong Kong-listed companies to Chow Tai Fook Capital Ltd. On his death, Forbes magazine listed him as the third richest man in Hong Kong with an estimated worth of US$16.6 billion.
In his press statement yesterday, Mr D'Aguilar said: "Perhaps Mr Roberts should tell the Bahamian people why they (CTFE) have been denied casino licenses in the United States, specifically Nevada and New Jersey, for simply being unsuitable and unacceptable.
"Perhaps Mr Roberts could explain their well-documented connection to organised crime in Asia. Perhaps Mr Roberts could spare some time to explaining to the Bahamian people exactly who it is that his government is trying to invite into our shores, instead of focusing on little ol' me.
"Perhaps then, he would be of some use," the statement added.
Mr D'Aguilar did not provide any details to support his claims; however, speculation over the Cheng family's link to billionaire Stanley Ho was published in Australia's Sunday Morning Herald on August 24, 2014.
At that time, CTFE was part of a joint venture to bid for the Queen's Wharf Casino in Brisbane.
Cheng Yu Tung acquired a 10 per cent stake in STDM, the Macau group which operates about half of the legal casinos in Macau, in 1982 and still holds this stake today.
A company owned by Mr Cheng's family also recently spent $1 billion to buy the largest casino junket operator in Macau.
The article states that Mr Ho owns a majority controlling stake in STDM, of which Cheng Yu Tung owns a 10 per cent stake, and other assets in Macau and Hong Kong. It said furthered that Mr Ho and his associates have been unsuccessful in attempts to expand gaming interests into Australia, Canada and other countries, and that the repeated rejection by casino regulators in Australian states and Canada was based on reports from "law enforcement agencies and other sources that have found him to be associated with Chinese triad gangs in his Macau casinos."
It was revealed that CTFE was in talks over the troubled resort on Thursday via a press statement issued by the Hong Kong-based firm.
On Friday, FNM Leader Dr Hubert Minnis charged that the disclosure of the company negotiating with the government to acquire Baha Mar is too bare on details to satisfy the public's right to information on the matter.
On Thursday, CTFE said it is "a world-class developer with immense experience in global hospitality and mixed-use development."
Rosewood Hotel, a subsidiary of CTFE Group, has had a relationship with Baha Mar since 2011 as one of the originally selected operators for one of Baha Mar's hotels.
However, after the resort, under the direction of original developer Sarkis Izmirlian, filed for bankruptcy in a US Delaware court in 2015, Rosewood requested that the court void its licensing agreement with Baha Mar, arguing that its brand had been tarnished by its association with Baha Mar.