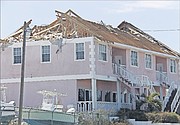 By DENISE MAYCOCK
Tribune Freeport Reporter
dmaycock@tribunemedia.net
ALTHOUGH the tourism industry on Grand Bahama has taken a hit after Hurricane Matthew, a prominent hotelier and businessman is optimistic about the great opportunity to rebuild, improve and enhance the tourist product.

With two of the island's anchor hotel properties in Lucaya closed for repairs, Sunwing Airlines has suspended flights from its US and Canadian gateways, and Carnival Cruise Lines has cancelled sailings to Freeport.
Port Lucaya Marketplace, which also sustained damage, has cleaned up well, but there aren't many visitors walking the bricked pathways and browsing the stores and shops there.
The smaller hotel properties, such as Pelican Bay Resort in Lucaya, and Castaways in Freeport, which also sustained damage, are open for business providing accommodation to the hundreds of people brought in to help with restoration efforts.

Russell Miller, chairman of the Grand Bahama Island Tourism Board, however, said tourism stakeholders have been busy meeting on Grand Bahama about plans to relaunch the island.
"We had some meetings… and I believe it is a great opportunity for us to rebuild, improve and enhance the product," he said.
"We are in discussion with the Ministry of Tourism to have a relaunch of Grand Bahama early next year when all the products are back in place, and up and running so we can get the message out that Grand Bahama is open for business and we welcome visitors to come back to our shores."
In Lucaya, the Grand Lucayan Resort, a 519-room property consisting of the Breaker's Cay and Lighthouse Pointe, expects to open November 7. The 496-room Memories Resort, which employs a staff of 500, expects to reopen December 10.
The closed Viva Wyndham Fortuna Beach Resort expects to open on November 14.
Sunwing expects to resume services on December 17 when the Memories Resort reopens. The airline, which started services to Freeport in 2003, brought thousands of visitors to the island every week. Its winter schedule includes flights from Halifax, Montreal, Ottawa, Winnipeg and Edmonton to Freeport.
The hurricane has also taken a toll on the island's tourist attractions. The operators of Port Lucaya Marketplace, the Garden of the Groves, and Pirate's Cove water theme park at Taino Beach are in the process of restoring their facilities for when the hotels reopen.