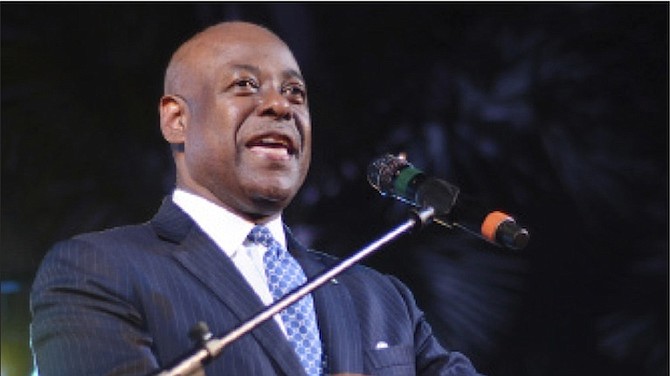 By KHRISNA VIRGIL
Tribune Staff Reporter
kvirgil@tribunemedia.net
THE government's "keen eye" on zoning has to date resulted in the closure of around 200 web shops across the country, Minister of Tourism Obie Wilchcombe said yesterday.
He stressed that officials were keeping watch on where web shops were being built as the government aims to discourage the proliferation of gaming houses near communities, schools and churches.
He added that the Gaming Board is expected to submit a report within the next several days recommending the gaming house operators who should be awarded licences to run web shops.
Last October, Mr Wilchcombe, who has responsibility for gaming, said in a statement that eight companies were awarded conditional gaming house licenses.
The eight companies are: FML Web Shop; Chances Games; Paradise Games; Island Luck; Percy's at The Island Game; Asue Draw + Spin; and Bahama Dreams.
"The Gaming Board is expected to provide for me a document within the next several days and there will be recommendations insofar as to who should get licenses that we will review and then issue," Mr Wilchcombe said following the morning session of the House of Assembly yesterday.
"The zoning regulations will be accorded with the licenses because to get a license you have to agree to certain things and once those things are in place and we are very mindful of the fact that we don't want the proliferation of gaming houses.

"We don't want gaming houses all over the place, particularly near communities, near schools and churches and playgrounds. So we are watching that every day and we are monitoring that every day.
"We have been able to reduce the number of houses from 600 to 400 and so we are constantly working to see how many more we can take off the streets of the Bahamas. We have a regulated system right now and more regulations are being considered to ensure that we properly manage the gaming business."
Asked pointedly about concerns that new web shops continue to emerge in neighbourhoods, particularly in inner city communities, the minister said this was not necessarily the case.
"What you might see is a building that is being replaced by another building and that would have been submitted before because in the work that we started they had to submit those things before. So when we got to this point we are allowed to do it because before we gave the provisional licenses they had to state where they had entered into any arrangements with rents or leases.
"So we had to make sure and of course we had to live up to our side of the responsibility as well and so they shared with us and we told them we gave permission for the relocations, but you would see that they move out of areas and that will stop and you will see more of that too because if we move more of the houses out from around the residential areas, from around the schools and from around the churches you are going to see movement.

"You will see the houses shut in those areas but you will see them put somewhere else."
Last year, Mr Wilchcombe announced that of the nine applicants for the conditional web shop gaming licence, only one, Bet Vegas was denied.
At the time he said the conditional licenses would be issued on November 2, 2015, marking the end of the review period.
Mr Wilchcombe said that the annual license and monitoring fees would be $250,000 per operator, $2,000 per premises and $1,000 per agent.
Ahead of the licensing phase, nine operators were approved to operate during the transitional period. To remain open, web shops were required to pay their tax arrears for the period July 1 to November 24, 2014, no later than December 1, 2014.
They were then given until December 8, 2014 to lodge sworn affidavits with the secretary of the Gaming Board, in which they disclosed whether they wished to operate their businesses during the transitional period.
The government previously projected that it would collect $20m in web shop taxes annually.