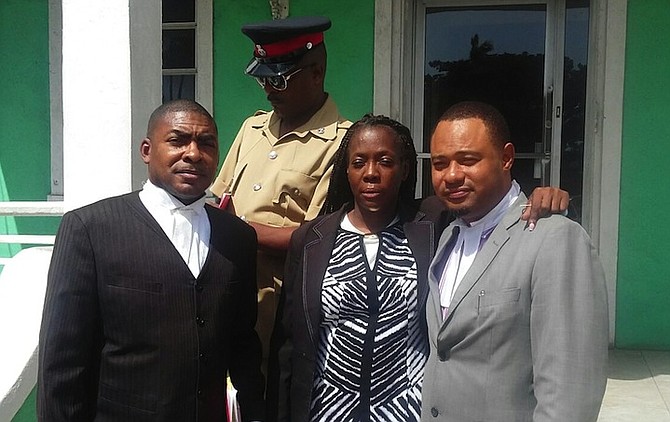 UPDATE: A DAY after being charged with intentional libel of two senior police officials, Maria Daxon was granted bail on Friday morning in the Supreme Court.
Justice Bernard Turner granted Daxon bail in the sum of $100 and has been released from the Bahamas Department of Correctional Services at Fox Hill. Her trial will be on October 5.
Daxon was charged on Thursday with two counts of intentional libel of Commissioner of Police Ellison Greenslade and Assistant Commissioner of Police Leon Bethel.
By LAMECH JOHNSON
Tribune Staff Reporter
ljohnson@tribunemedia.net
A LAWYER found herself in Magistrate's Court yesterday accused of defaming two of the most senior ranked officers of the Royal Bahamas Police Force.
Maria Daxon, a former police constable and vocal defender for the rights of police officers, stood before Chief Magistrate Andrew Forbes facing two counts of intentional libel concerning alleged statements written about Commissioner of Police Ellison Greenslade and Assistant Commissioner of Police Leon Bethell.
It is alleged that she, between August 26 and August 30, wrote defamatory statements about Commissioner Greenslade and ACP Bethell, which were likely "to injure and expose" the officers to "general hatred, contempt or ridicule."
Daxon elected to have the matter heard in Magistrate's Court and pleaded not guilty to the allegations.
Her lawyer, Glendon Rolle, questioned if the prosecution had actually done an investigation before charging his client.
The chief magistrate said that issue did not concern the court.
"I simply adjudicate matters that come in my court. Beyond that I cannot speak to the mindset of the investigator," Chief Magistrate Forbes said.
Mr Rolle asked to receive the statements the prosecution intends to rely on for the charges.
On the question of bail, police prosecutor ASP Marlon Fulford noted recent amendments to the Bail Act made the charge of intentional libel a non-bailable offence in Magistrate's Court.
Daxon was then told by the chief magistrate that she would have to make an application to the Supreme Court if she desired to a bond ahead of her October 5 trial.
She was remanded to the Department of Correctional Services in the interim.