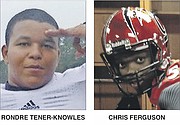 By RENALDO DORSETT
Sports Reporter
rdorsett@tribunemedia.net
NCAA football across all divisions began last weekend and several Bahamian players were in action in week one.
Linemen Chris Ferguson and Rondre Tener-Knowles notched wins while Mike Strachan's team lost in his debut and Mavin Saunders is set to conclude the week one schedule tonight in prime time.
Ferguson, the redshirt sophomore defensive tackle, and his Cincinnati Bengals opened the season with a 28-7 win Thursday over the University of Tennesse-Martin Skyhawks.
"I don't think that game was the type of game that people expected, but it was what I expected. We turned the ball over three times in the first half and put ourselves in a bind. I was proud of our defence, we adjusted. It's hard knowing what they are going to do on offence. We adjusted pretty good and made a couple third down throws. After that we didn't give up any points. We got better as the game went on," Bearcats head coach Tommy Tubberville said.
"I didn't know that. Finally, but we were still tied in that category 3-3 and we need to be plus. We want to be that type of team. We could've done a few more things on defence and once our players started to settle down, we were able to do that. That's good, when the players say coach 'let's just play' that's good. It was good to see us play in the red zone."
The Bearcats were tabbed to finish third in the American Athletic Conference's East Division in the league's 2016 preseason media poll. UC expects to be in contention once again with the return of 13 starters from last year's 7-6 team.
Ferguson came to UC as a three-star recruit, according to ESPN.com, and has a pair of stars from 247sports.com and Scout.com.
As a defensive lineman in his senior season at Lake Nona High School in Orlando, Florida, he recorded 17 total tackles, one sack, one forced fumble and one fumble recovery.
Ferguson was named to the Orange County Senior Bowl and was ranked No.40 in the Sentinel's 2014 Central Florida Super 60 and picked UC over offers from Illinois, Minnesota and Western Kentucky.
He was the Bearcats first signee of the 2014 class as a defensive tackle. However, in training camp over the past few weeks, Bearcats head coach Tuberville and his staff decided to shift the 6'4" and 275 pounds freshman to the offensive line.
Knowles-Tener and his James Madison Dukes earned one of the most lopsided wins of the week with an 80-7 win over Morehead State Saturday at Bridgeforth Stadium in Harrisonburg, Virginia.
They set the programme record for points scored in a single game.
Mike Houston, Dukes head coach, said the team started the season on the note they expected.
"We are extremely pleased with the way our team came out and played tonight. I am very happy with the way we approached the game and the way we executed through all three phases throughout the bulk of the game. The kids worked very hard since they got here, and we really pushed during preseason camp and throughout the spring," he said.
"Throughout this week, we tried to go a great job to get the team mentally prepared to go out and play the way we want to play. We did that. That's credit to them. They bought into us and what we are trying to do and how we are trying to do things. It's also a credit to the phenomenal coaching staff that I have as far as my assistants go."
Knowles-Tener, a 6ft 1in, 295lb defensive lineman, is a former standout performer at Tabernacle Baptist Academy now anchoring the defensive line at Liberty Christian Academy (LCA) in Lynchburg, Virginia.
In his stint at LCA, his play has garnered him numerous accolades, including VISAA Division I Second Team All-State as a junior, VHSL Honourable Mention All-Region 4A West and First Team All-Conference 23 as a senior and was a member of LCA's VISAA Division I state championship team as a sophomore.
Strachan and the University of Charleston Golden Eagles lost their opener to Notre Dame College, 44-17 on Saturday.
The 6ft 5in 205lb pound wide receiver is three-sport athlete who will also run track for the Golden Eagles.
He joined Charleston after a standout career for coach Chris Rocco at LCA. Strachan was a member of the 2013 VISAA 1 State Championship team, and received All Conference and Honourable Mention All-Region this year as a senior.
The Golden Eagles football programme is coming off a season where it made its first ever trip to the NCAA Division II Playoffs under head coach Pat Kirkland. Kirkland enters his sixth season overall and over the past two seasons has led UC to an overall 18-4 win-loss record and a top-15 national ranking.
Saunders and the number four ranked Florida State Seminoles will face the number 11 ranked Ole Miss Rebels tonight at Camping World Stadium in Orlando, Florida.
The Seminoles finished the season at 10-3, 6-2 in the ACC to advance to a major bowl, the Chick-Fil-A Peach Bowl, despite not earning a spot in the ACC conference championship game.
Saunders, the 6'5" 258-pound redshirt freshman tight end and Bimini native, has appeared in six games last season before being relegated to the sidelines due to a nagging back injury. In the season opener, he caught a single pass for five yards. His best game of the season was the first start of his collegiate career, when he finished with three receptions for 26 yards – both career highs – in the Seminoles' 29-24 win over in-state rival, the University of Miami Hurricanes.