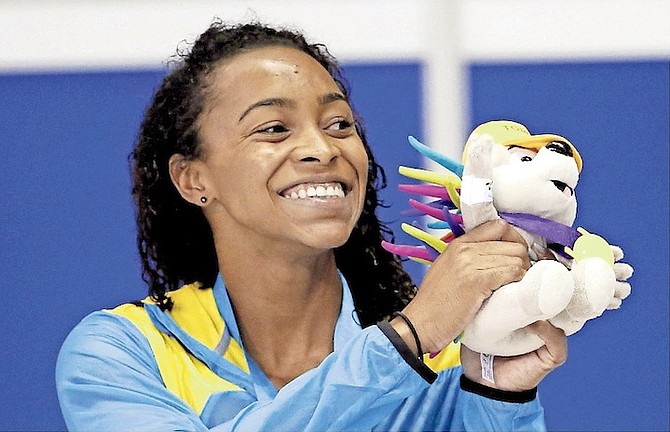 By BRENT STUBBS
Senior Sports Reporter
bstubbs@tribunemedia.net
The trip to Rio de Janeiro, Brazil turned out to be the last of five Olympic Games appearances for men's veteran quarter-miler Chris 'Fireman' Brown. After her third appearance, Arianna Vanderpool-Wallace said it maybe the end of her stellar career as a swimmer.
Already the first Bahamian swimmer to make a final when she competed in the women's 50 metre freestyle in 2012 in London, England, Vanderpool-Wallace was hoping to duplicate that feat in Rio and get a chance to win the Bahamas' first medal in the sport.
While she was fourth in her heat in 24.80 seconds, Vanderpool-Wallace came in ninth overall, one spot shy of advancing to the final and now she's seriously contemplating her future as a competitor.
"I'm proud of my performances," she told The Tribune in the aftermath of the games. "It wasn't the results that I wanted, but I know that I put everything I had into the past four years for this cycle so I'm happy with how my career has gone so far."
But she admitted that "disappointment" wasn't ever a word she thought about in terms of reflecting on her performances overall.
After opting not to contest the 100m butterfly, Vanderpool-Wallace competed in the 100m freestyle where she was seventh in her heat in 54.56 for 18th place overall.
With the Olympics over and done with, Vanderpool-Wallace has returned to her alma mater at Auburn University where she is working as a graduate assistant for the swim team and pursuing her masters degree in kinesiology.
"For now I don't know where my career is going to go, I'm just taking it day by day," she told The Tribune. "I don't have any plans for competing in the near future. Just looking at getting in shape and staying healthy this fall."
Vanderpool-Wallace, 26, has had a glaring career from the Carifta ranks all the way to the Olympics.
Along the way, she competed at the FINA World Championships in 2009 in Rome, Italy, the Pan American Games in 2007 in Rio de Janeiro, twice at the Central American and Caribbean Games in 2006 in Cartagena, Colombia and 2010 in Mayaguez, Puerto Rico and also at the Commonwealth Games in 2014 in Glasgow, Scotland.
At the CAC Games, she picked up four gold medals in the women's 50m and 100m free as well as both the 50m and 100m butterflies, setting the games records then in the 100m free and 50m fly. 
And at the Commonwealth Games as the flag bearer, she produced a silver in the 50m fly, but was fourth in the 50m free and fifth in the 100m free.
In Rio, Vanderpool-Wallace would have had to at least match or surpass her Bahamas national records of 24.34 in the 50m free and 54.37 in the 100m free, if she had intended to be a contender for the final and a chance to get on the podium again.
Vanderpool-Wallace admitted that it didn't pan out as she anticipated, but she said she gave it her best shot, just as she did throughout her career.
"I'm grateful for the Bahamas for cheering me on along the way and helping me to achieve some lofty goals that I had," stated Vanderpool-Wallace, the most decorated Bahamian swimmer - male or female.
"If I don't compete again for the Bahamas I hope that I have inspired another generation to surpass me and take the Bahamas to even new heights whether it be in swimming, as any type of athlete or in life.
"The Bahamas is small and might and I can't wait to see what the future holds for us."
In the meantime, Vanderpool-Wallace said she's weighing out all of her options in familiar surroundings where she excelled for the Tigers swim team at Auburn University during her sting from 2008-2012 where she was a multiple All-American and three-time NCAA champion.