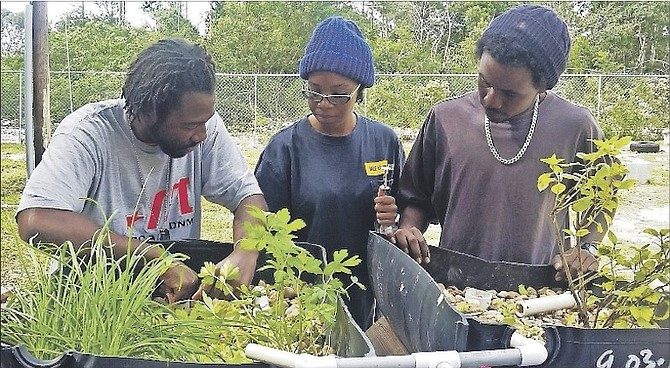 AN Aquaponics Manager at the Bahamas Agriculture and Marine Science Institute (BAMSI) has been selected for a Chinese government scholarship to pursue a doctorate degree at Ocean University starting this month.
Cameron Lightbourne, Assistant Aquaponics Manager, will study for a degree in Agriculture at the renowned College of Fisheries, Department of Aquaculture at Ocean University in Quingdao.
"I am very honoured and humbled being selected for the prestigious Chinese Government Scholarship to attend such a premier institution like Ocean University of China," Mr Lightbopurne said. "For the study of aquaculture it is widely considered to be the best university in the world. The officials from Ocean University recognised the potential of BAMSI, and were equally eager to form a partnership that would benefit both institutions, and nations to a wider extent."
Focusing on Fisheries Science with a concentration in Aquaculture, Mr Lightbourne's research will ultimately benefit the Bahamas as the nation continues to explore ways to feed itself and reduce its import bill. He noted that with global capture fisheries on the decline, aquaculture (the farming of marine species within a controlled environment) is replacing most food fish in the world, and with greater implementation of the science the Bahamas will be in a better position to meet the steadily increasing demand for marine protein.
"Faced with issues such as overfishing, poaching, climate change and geopolitical factors, The Bahamas needs to be able to use alternative methods to supply fish and fishery products to our population if we are going to conserve the fish that are in our natural environment," he said. "One of the highest costs in an aquaculture enterprise is feed supply and any research that helps to reduce those costs makes the enterprise more feasible."
Mr Lightbourne holds a Master of Science degree in Aquaculture from the University of Rhode Island and a Bachelor of Science degree in Animal Science from Tuskegee University. He has worked with BAMSI for nearly three years and has been instrumental in the construction of the Institute's commercial demonstration aquaponics unit, several backyard/tutorial aquaponics systems, and had oversight of the production of food, fish, and hydroponic produce, including herbs and leafy greens. Mr Lightbourne's role as supervisor also saw him assisting with logistics on the farm.
"This opportunity would not have been possible without the foresight and dedication to the development of agriculture and marine sciences from the Minister of Agriculture, the President, Executive Director, and Director of Marine Science at BAMSI, and of course, the support from the Government of The Bahamas. I am truly grateful for this opportunity to increase my knowledge, abilities and experience, and bring those skills and expertise back to the Bahamas to add to our national development."
While at BAMSI, Mr Lightbourne had the opportunity to represent the Institute at a number of international, regional and national forums. He was a presenter at BAMSI's Climate Change Forum and represented BAMSI at the Ministry of Agriculture's Agri-Expo 2016.