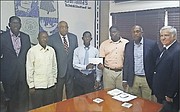 A PARTNERSHIP that began two years ago continues to strengthen with the first awards of the Idris George Reid Scholarship to attend the Bahamas Technical and Vocational Institute (BTVI) presented by Lodge Claudius R Walker.
Geno Mackey and Renaldo Fils were hoping to obtain training in the technical field and have now been awarded the opportunity to pursue their dreams. Mr Mackey is a 2016 graduate of C R Walker High School, who participated in the lodge's mentorship programme while in high school and will be completing an Associate's of Applied Science degree in Electronics Engineering Installers & Repairers. Mr Fils will be completing a certificate programme in Electrical Installation.
BTVI's President, Dr Robert W Robertson, thanked the lodge for providing opportunities for the young men to realise their potential and fulfil their dreams.
"Lodge Claudius R Walker understands the necessity and almost urgency of mentoring young males in The Bahamas," he said. "Truly, they are making a difference in the lives of the recipients through the mentorship component, which is commendable."
Right Worshipful Master, Brother Willie Simmons, indicated that four years into the formation of the lodge, it was determined that it would be an educational and institutional one. He said that the lodge established the mentorship component of the scholarship to help "make a dent in the community by donating to the young men who did not have".
For Mr Mackey, receiving this scholarship is a reminder of words reiterated by his father: "Where there is unity there is victory."
"I am here today, on God's will, to reassure that this opportunity will be taken, accepted and greatly appreciated … this is just another big step taken for me that will impact my life in many ways just as joining this lodge in my C R Walker (High School) days and being mentored by Mr Luther Smith," he said.
For Mr Fils, being awarded this scholarship lightens the burden of his goal to become an established electrical engineer. "My path to this glorified destination has in fact been made a little easier through this blessing - that is being awarded the Idris George Reid Scholarship Award here at this outstanding institute," he said.
Right Worshipful District Grand Master, Brother Joseph Curry, said he hopes the scholarship recipients develop the confidence they need to become law abiding productive citizens. "The Lodge determined that it is not only important to mentor young men, but to invest in them by doing something more tangible and measurable … we will help them to be more productive, engaged and less distracted," he said.
The lodge brethren and Dr Robertson have committed to following the progress of the two men, assisting them to maintain at least a 2.75 GPA as required for the scholarship. The recipients are also expected to perform a minimum of 20 hours community service per year while completing their programs at BTVI.
There have been three previous recipients of the Idris George Reid Scholarship, one of whom has already graduated and is gainfully employed at Kerzner International.