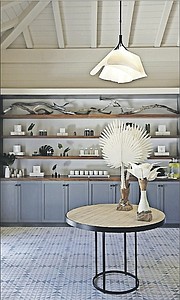 By ALESHA CADET
Tribune Features Reporter
acadet@tribunemedia.net
The tranquil, soothing and inviting atmosphere of a day spa can offer a sweet escape for both women and men unwinding after a busy work week.
But for Angelique Williamson, massage therapist at the Island House Bamford Spa on Mahogany Hill, a day spent visiting a spa can offer much more than that.
In addition to offering relaxation, she believes the greatest advantage of visiting spas are the health benefits you receive with the various treatments.
"With a body massage, it helps with relaxation, circulation, cellulite lymphatic drainage and also helps for the heart to function better. It is a feel-good experience, especially the oils we use here such as the camomile oil and so much more. They are so soothing and also help people rest better," she said.
"If people are able to financially, I think it is important to get a massage at least twice a week if possible. Other than that, every other week. People go through so much on a daily basis, for instance with stress and challenges with lifestyle and eating habits, this would put them in the right frame of mind."
Bamford Spa services include their signature treatment which is designed to awaken and penetrate the muscles, the deep tissue massage directed at the most common areas of tension in the body, and the full body exfoliation where the whole body is lightly massaged with a warm blend of pure sea salt and brown sugar suspended in rich oil and body butters.
One patron at the spa described a pedicure service with Bamford's Pennie Baldacchi as "a sweet escape from the usual hustle and bustle of everyday life."
"While you can get a pedicure at many different places in Nassau, I found the experience at Bamford especially unique, mostly due to the atmosphere and the tranquility of the scenery. The fact that they use all natural products was a win for me. Pennie, my nail technician, she has a very vast experience and knowledge in the field. She offered great service and knowledge on what products to use going further," said the patron.
Bamford Spa, a fairly new wellness retreat, offers a wide variety of individually crafted treatments, all based on their trademark holistic approach to harnessing the rejuvenating power of nature.
The Bamford Body Collection is the product line used throughout the Island House and forms the basis of a range of beauty, massage and therapeutic treatments offered at the spa.
Founded by Lady Carole Bamford in 2006, the award-winning brand is a reflection of her passion for natural living, traditional skills and craftsmanship. The Island House is the first property outside Europe to feature a Bamford Spa.
Anja Allen, marketing department representative at The Island House, said the beauty of the Bamford Spa is that patrons can tell the team what they are looking for, and get just that. She said the staff is well trained by international Bamford Spa specialists.
"It is important that we work closely with them so that is something else that people will notice here, that all of the ladies have been trained well. The main key is this is a little small hidden gem, offering all natural products which you can't get in any of the spas here in Nassau. They are also renowned and well-known that have proven themselves through time. Bamford is an exclusive all organic brand based in the UK. It was really a passionate dream of the Holoweskos, especially Lauren, to go and actually source something that is all natural and bring it to the Bahamas," said Ms Allen of the owners of the The Island House.
She said the idea to promote health and wellness in this holistic way is paying respect to the environment, embracing what is natural and green.
"Here at The Island House you see a lot of natural colours and woods. It's all about those things that we enjoy when we travel and haven't noticed here yet in the Bahamas. Farmers markets are picking up and a lot of people are farming now, which is good. It is been really refreshing since we opened in April. People are really noticing that you have to do a little bit more good to your body, knowing the environment has all the solutions. We have some wonderful ladies that came to work here and made this their home," said Ms Allen.