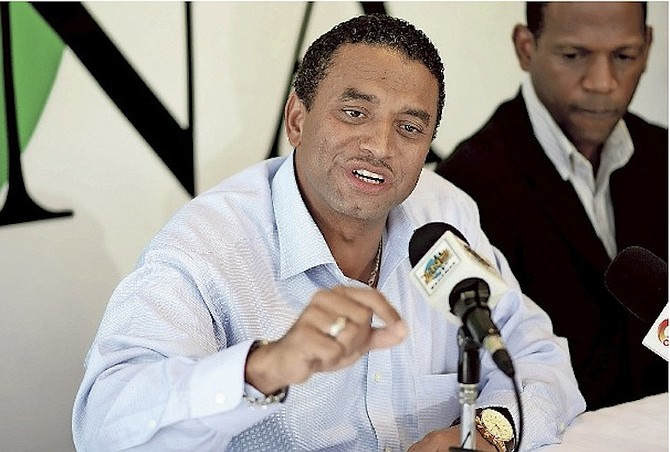 By SANCHESKA BROWN
Tribune Staff Reporter
sbrown@tribunemedia.net
DEMOCRATIC National Alliance Leader Branville McCartney confirmed yesterday that he, along with senior members of the Free National Movement and other third party executives, met last week to discuss how they can all work together to "get rid of" the Progressive Liberal Party.
Mr McCartney told The Tribune the meeting was organised by "private citizens" who believe that an alliance between the opposition political parties is best for the country before the next general election.
However, Mr McCartney said he has "some reservations" about a possible alliance because the FNM seems to be "a sinking ship."
"I got an interesting call from a private individual a few days ago asking me to attend a meeting," Mr McCartney said. "They based the meeting on the premise that they realised that the DNA was here to stay and that the DNA has done something significant over the last five years and that we have grown.
"A call was made and I obliged and attended the meeting to hear what they had to say. There were persons from the business community, bankers, financial persons and other professionals along with the FNM and other persons from other parties. The concern was that even though the PLP is incompetent and may be polling low right now, we cannot take this for granted and take the chance that the PLP will be re-elected. They just want us to do what is good for the country and they felt as though what is best is for all of us to somehow get together. The meeting was to feel us out and then we are going to have other subsequent follow up meetings."
Mr McCartney said that while he was open to the idea of a coalition a few months ago, because of all the negative press the FNM has been getting lately, he "isn't sure" anymore.
"The FNM is sinking. Every day people are leaving the party," Mr McCartney said.
"They are having problems with Loretta Butler-Turner, their finances, it seems to be a lot of unfortunate circumstances surrounding that party and we have a maximum of eight months to campaign, that may not be enough time for them to get it together. Also, the last time I talked about a coalition, that did not go to well with certain members of my party. We have some strong members in the party and I have to talk to them before any decision is made, that is not something I can do myself."
In May, FNM Leader Dr Hubert Minnis said he was open to forming a coalition with the DNA but said he is "turned off" by Mr McCartney's arrogance.
Dr Minnis said he was "disappointed with Mr McCartney for his "bombastic arrogant attitude, when persons are trying to reach out and move the PLP."
He maintained that he was willing to have the conversation but admitted that he had "no idea" how a possible coalition would work.