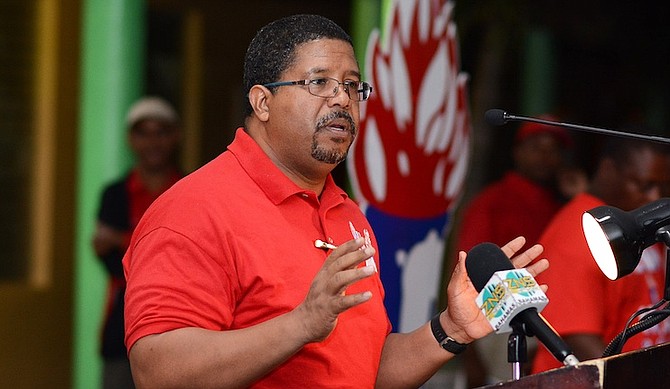 By RASHAD ROLLE
Tribune Staff Reporter
rrolle@tribunemedia.net
FREE National Movement Deputy Leader Peter Turnquest is reiterating his criticism of the inclusion of a representative from China Construction America on the committee that will handle Baha Mar creditor and employee payouts after it was revealed that the group will not deal with payouts to creditors owed money by CCA.
In a notice published in the newspapers Tuesday, the Claims Committee, which is headed by former State Minister for Finance James Smith, said calls for Baha Mar creditors to come forward with their claims do not extend to creditors of CCA.
Mr Smith told The Tribune on Tuesday that CCA's creditors will be dealt with by the company under a separate scheme.
Nonetheless, a senior representative of CCA, Tiger Wu, is among the five people who have been appointed to the Claims Committee.
Mr Turnquest said: "If the only people being paid by the Claims Committee are those with contracts with Baha Mar, why is CCA involved in this committee? Why are they there and adjudicating claims? If creditors were making claims on them I could see them being involved to verify the claims but if the claims process doesn't involve them then I don't see why they would be there. More and more this whole thing looks like an irregular, ad-hoc, side arrangement between the government and the bank."
Mr Turnquest previously said Mr Wu's inclusion on the committee was "very unfair" to Bahamian creditors, especially the local contractors who were hired as sub-contractors by CCA given that he felt that CCA could use its position on the committee to "beat down" the value of their claims.
Mr Turnquest also questioned the lack of representation of someone from the provisional liquidation and receivership teams on the committee following Tuesday's confirmation that the claims process is taking place on an "ex-gratia basis" without the involvement of any of the court-appointed parties.
The lack of involvement of such people is because the money provided by the Export Import Bank of China (CEXIM) does not come from the sale of any of Baha Mar's assets, but is instead a gift from the bank.
Echoing the view of other stakeholders who have spoken to The Tribune, Mr Turnquest said this allows the Claims Committee to discriminate against foreigners when handling claims.
"When you look at who is going to get paid it seems discrimination is involved as it clearly says only Bahamian employees and contractors who have a direct relationship with Baha Mar are eligible to be paid," he added. "I don't know how you do that legally. If I am in a class of creditors, whether foreign or domestic, I have an equal right to be paid. I don't know how you get away with discriminating against foreign contractors."
Nonetheless, Chamber of Commerce Chairman Gowon Bowe said yesterday that as the party providing funds it wasn't obligated to provide, CEXIM has the right to determine how it wishes to proceed with the payouts.
"CEXIM could have decided to sell the assets to recover funds," he said. "But now they have a business proposition in front of them and they are voluntarily contributing additional monies. CEXIM could have said 'I will proceed to finish the project and pick and choose who I work with.' But they've taken the route that says they will look at existing creditors who can complete the work."
Mr Bowe added that there must be a "settling of voices" over the Baha Mar deal and politicians should respect the fact that the matter is before the courts.
"This is still a private venture going through a troubled time," he said. "There has to be a balancing of expectations of what you would like to see if this was a public hearing versus what is done in private transactions when something is before the courts.
"I hear the rhetoric coming from the politicians. But if we look at it as a business transaction, money is being provided by a source that didn't have to give it and that source will want to have a say in how that money is issued out."