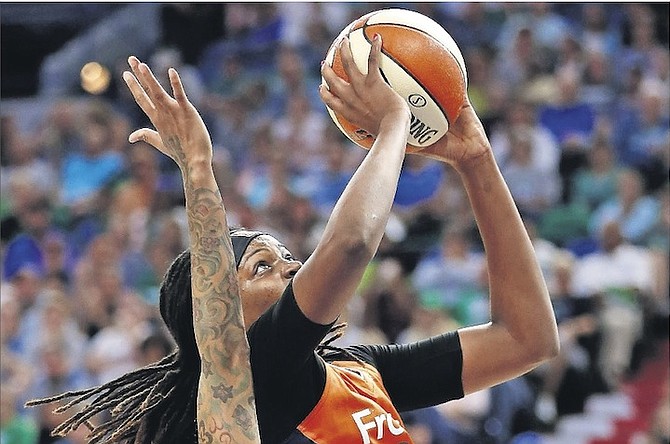 By RENALDO DORSETT
Sports Reporter
rdorsett@tribunemedia.net
The WNBA defending champions Minnesota Lynx got payback on the Connecticut Sun for a loss two weeks ago. However, our very own Jonquel Jones produced one of her better games of the season.
Jones logged her second double double of the year with 14 points and a team high 11 rebounds in the Sun's 93-79 loss to the Lynx.
The first double double of her WNBA career came in a July 22 win over the Chicago Sky when she posted 20 points and 11 rebounds.
Despite playing just over 13 minutes per game, Jones has been one of the most efficient players on the team, according to Advanced Stats.
Jones is the second leading player on the team with a PIE rating of 13.2.
In its simplest terms, PIE shows what percentage or share of game events the player was responsible for. The stats being analysed in the rating are the traditional basketball statistics, including points, rebounds, assists, turnovers and others.
Advanced Stats is a way to study basketball through objective analysis. It is a more in-depth way to look at a simple box score, and more accurately evaluates the skill and production of a player or team. 
The Sun posted an 8-4 record since the start of July and was tied for the second best mark in the WNBA during that timespan. With the league's new playoff rules, the Sun are in the hunt for a playoff spot.
The Sun are currently 11-18 in sixth place in the  Western Conference.
The top eight teams in the entire league, irrespective of division, qualify for the playoffs and are seeded one to eight. Regular season records determine the seedings of the teams.
The new format  will re-seed after each round and includes byes for the top-ranked teams.
According to SBnation: "Under the new format, teams will be seeded 1-8 regardless of conference affiliation. The top two seeds will receive double byes to the semi-finals, while the No. 3 and 4 seeds get single byes. The No. 5 seed will play the No. 8 seed and the No. 6 seed will play the No. 7 seed in a single-elimination first round.
The higher-seeded winner then plays the No. 4 seed in the next round, while the lower-seeded winner then plays the No. 3 seed. They, too, would each play a single game.
The Lynx, Los Angeles Sparks and New York Liberty have clinched playoff berths.
The Seattle Storm currently occupy the No.8 spot at 12-17, just one game ahead of Jones and the Storm and with just five games left to play in the regular season.