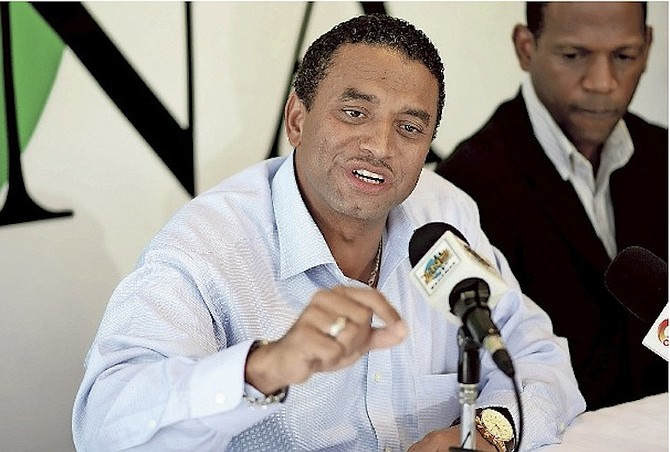 By SANCHESKA BROWN
Tribune Staff Reporter
sbrown@tribunemedia.net
DESPITE several requests from senior Free National Movement members and "private citizens not affiliated with any political party," Democratic National Alliance Leader Branville McCartney said his party will not be forming a coalition with the Official Opposition.
During a press conference at his law chambers, Mr McCartney said the FNM is a "broke and sinking ship" and a union between the two groups would help the FNM but hurt the third party.
"We are done with that," Mr McCartney said. "The FNM is in the worst state that they have ever been in their political history. They seem to be losing people everyday; there is still a lot of infighting. One person is saying one thing and another person is saying the next thing. The FNM seems to be very wanting, their role as an opposition party has been dismal at best.
"They have lost a significant amount of support in this country and although you may have a number of persons wanting to see some type of union, going and dealing with the FNM is like changing decks on the Titanic. That would not benefit the DNA. It will benefit the FNM. When the DNA fist started, the FNM was the government. At the time the FNM had a leader by the name of Hubert Ingraham and they were the government. They had the public purse and they had some finances behind them. Today the FNM is the opposition, they are led by Dr Hubert Minnis, they have lost a significant amount of support, their finance committee has (reportedly) left them and people continue to leave the party everyday.
"There is mass confusion within the party," he added.
"Who would benefit from any coalition? The FNM cannot get into power with the state they are in today."
In May, Mr McCartney confirmed he had been approached "several times" by senior members within the FNM, as well as
sitting FNM MPs, to join the Official Opposition.
He said at the time that while the DNA will never "fold up" and join a "sinking FNM," he proposed for the two parties to "join forces and work together" to oust the Progressive Liberal Party government.
However, Mr McCartney said FNM Leader Dr Hubert Minnis "is so full of himself and bad at politics" that he refused the offer unless the DNA disbands – something the DNA leader said "will never happen".
Dr Minnis in turn said that he was "open" to forming a coalition with the DNA, but said he is "turned off" by Mr McCartney's arrogance.
When asked about talks with the DNA about a coalition yesterday, Dr Minnis said he could not comment.