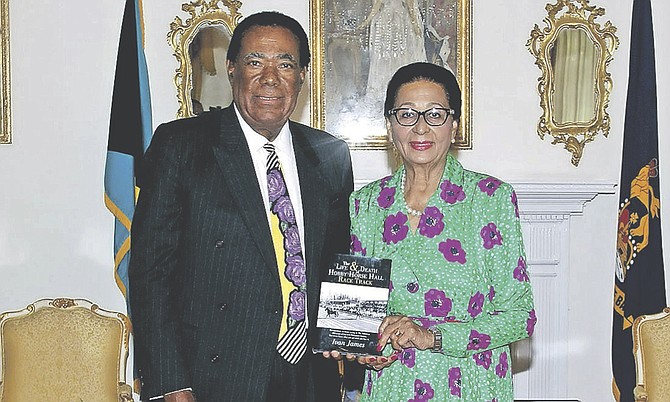 By RICARDO WELLS
Tribune Staff Reporter
rwells@tribunemedia.net
TWO YEARS of research into the historic importance of horse racing in the Bahamas received the seal of approval by Governor General Dame Marguerite Pindling yesterday.
A collection of memories often shared by former hotelier Ivan James during everyday conversations and speaking engagements was recently compiled in a book - "The Life and Death of Hobby Horse Hall Race Track" - detailing nearly 200 years of the "forgotten horse racing culture" of the Bahamas.
Shortly after presenting a copy of the non-fiction publication to Dame Marguerite, the 78-year-old told The Tribune of how fate led him to pen the book back in 1999.
"Someone heard that I had scores of pictures of horse racing and asked to see some," he said.
"My passion for the topic led me to fly to Miami to get some footage edited. On my way back to New Providence, on the flight (I decided) that I had to do more to document this forgotten part of the
country's history and culture.
"I started in 1999, after nearly two years of research, I compiled so much information, some that I had forgotten over time and it all went into this book," he added.
"When you look at it, the Hobby Horse Hall race track was the first sporting seat of the Bahamas - (there was) no Junkanoo, very little football and there was some cricket. This was an industry and it is interesting to know that most of our royal governors played an integral part in this industry."
Mr James, the lead official of the Arawak Downs Race Course Company, a group dedicated to the revitalisation and re-establishment of horse racing in the Bahamas, said his presentation of a manuscript of the book to former Governor General Sir Orville Turnquest spurred the end product.
"That is what is interesting here.
"Horse racing was so important to our country; the story of our nation is almost predicated on the story of horse racing. If you are a history buff, a culture buff or a horse racing buff; this is a book for you," he said.