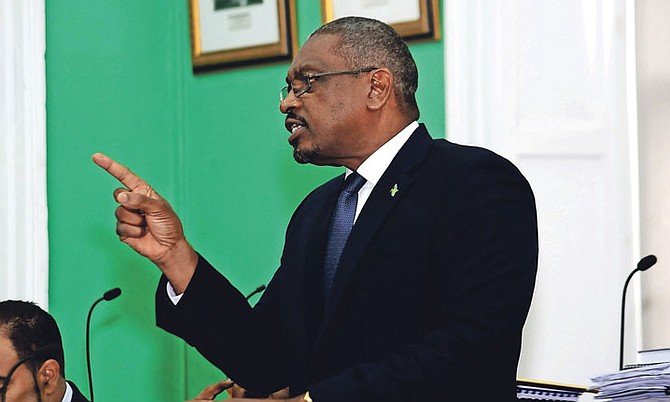 By KHRISNA VIRGIL
Deputy Chief Reporter
kvirgil@tribunemedia.net
DESPITE two Free National Movement candidates abandoning their 2017 election campaigns and reported continued friction behind closed doors of the organisation, FNM Leader Dr Hubert Minnis told The Tribune yesterday that he doubts any of this has damaged the party's image.
Two sitting FNM MPs - North Eleuthera MP Theo Neilly and Central Grand Bahama MP Neko Grant - have also said they would not be seeking re-election.
"The FNM is a very stable party and is an organisation that is getting itself organised to remove the Progressive Liberal Party (PLP)," Dr Minnis insisted yesterday.
"We are organised to remove the PLP and every one realises how ineffective the PLP is and how they are destroying our country."
In fact Dr Minnis said evidence of his party's strength would be seen when the party ratifies additional candidates on Thursday. However, when asked to reveal these persons, Dr Minnis declined to do so, only saying that once ratified, the candidates would present their platforms.
It has been rumoured for weeks that the party intends to ratify prominent public figures including Superwash Laundromat CEO Dionisio D'Aguilar, former Deputy Commissioner of Police Marvin Dames and former Democratic National Alliance Chairman Mark Humes.
Last week, Mr Dames confirmed to The Tribune that he was approached by the FNM over a possible candidacy.
At the time Mr Dames did not reveal the constituency he was being considered for, but it has been speculated that the FNM intends to ratify him for the Mount Moriah seat.
Party insiders have told The Tribune that the former high-ranking police officer would be a good pick for the party as the constituency is home to one of the capital's most challenging crime hot spots for the police – Yellow Elder Gardens.
However, Mr Dames said while the FNM's interest in him has stirred much debate, he has yet to accept any position and the party hasn't made him any assurances.
A possible run by the former police officer has been speculated for weeks, but was the subject of discussion on Tuesday after Mount Moriah Constituency Association executive Collin Ingraham expressed anger over an apparent snub concerning his candidacy for the constituency.
It came to light in a message sent by messenger service WhatsApp in which Mr Ingraham expressed displeasure over reports that despite promises he was slated to be the party's pick in the next election, Mr Dames had been chosen.
"I have not committed to anything nor has anyone told me that I have been nominated for any position," Mr Dames said when he was contacted by The Tribune last week.
He added: "In an answer to your question, yes I have been approached by the FNM and I have been approached by people in other parties as well.
"You know people are driven to politics for any number of reasons (including) their own selfish gain, the power (and) the prestige of it. But I would say this, if or whenever that day comes and I decide to run in front line politics, it's going to be for all the right reasons. "Principle among those reasons would be to give all that I can give to ensure that this country gets on the right track and that's all I have to say."
This comes after a faction in Long Island drafted a petition to oust that constituency's MP Loretta Butler-Turner, reported uncertainty over Montagu MP Richard Lightbourn's future with the party, and confirmation from FNM member Howard Johnson that he was dropping out of the race for the South Beach constituency.
FNM member Leonard Sands, who was slated to be the party's candidate for the Bain and Grants Town constituency, also announced last month that he was dropping out of the race.