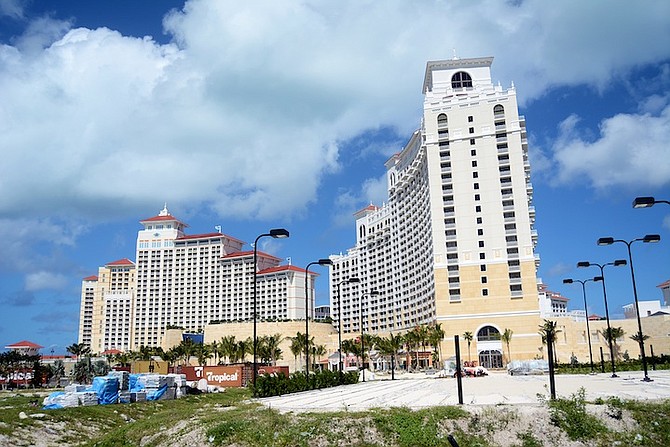 By RASHAD ROLLE
Tribune Staff Reporter
rrolle@tribunemedia.net
EDUCATION Minister Jerome Fitzgerald, one of the government's lead negotiators in the effort to remobilise construction at Baha Mar and pay creditors, objected to criticism yesterday that there are discrepancies between Prime Minister Perry Christie's confident pronouncements that all Bahamian creditors will receive money owed to them and the Claims Committee's assertion that payment is not guaranteed.
On the Frequently Asked Questions (FAQ) section of its website, the Claims Committee says no creditor of Baha Mar is guaranteed payment, emphasising that its claims process will be carried out on an ex-gratia basis and is not part of a formal liquidation process where it would be subject to certain legal considerations.
Outside Cabinet, Mr Fitzgerald said yesterday that this does not apply to Baha Mar's Bahamian creditors.
He stressed that "there's been no language changes" between what the prime minister has said and what the Claims Committee has announced.
"The creditors for Baha Mar are both Bahamian and non-Bahamian," Mr Fitzgerald said. "We have made it clear from day one that we the Bahamas government are concerned about Bahamian creditors. The committee is taking all claims, Bahamian and non-Bahamian. Some of those will not get much; they're non-Bahamian. There's no guarantee. There's nothing inconsistent at all. We're going to take care of Bahamians."
Mr Fitzgerald also knocked down a key Free National Movement talking point - the idea that the government and the Export Import Bank of China (CEXIM) ignored an offer by Baha Mar's original developer, Sarkis Izmirlian, to pay creditors 100 per cent of what they are owed and to fund the remobilisation and completion of the project in favour of an agreement with less guarantees.
"(Mr Izmirlian) never, never brought one red cent forward," Mr Fitzgerald said. "Never a letter from a bank, never a guarantee, just words. The government of the Bahamas is not working on words when it comes to this matter. We are working on money where it is located, where we can specify it and where we can see it. Mr Izmirlian has never, ever done that and if he can send you something where he showed the government that he is able to come up with a couple hundred million dollars to ensure the creditors are paid and that he can finish the project, then you print it."
Regardless, Mr Fitzgerald stressed that it would be up to the EXIM Bank to decide whether it would want to do business with Mr Izmirlian in the future.
However, on April 12, the same day that Mr Izmirlian, in a letter, had renewed his bid to CEXIM for Baha Mar, Mr Christie had said: "Clearly he (Mr Izmirlian) is deserving of every consideration and it's a question of the bank being in a position to determine what they are going to do."
In the letter to CEXIM, Mr Izmirlian had said that his team had the "best chance" of opening Baha Mar "quickly and successfully" and encouraged the bank to accept his offer.
He added that the current sale process that was launched by the receivers is "fraught with obstacles and irregularities".
The April letter was a follow-up to an offer that Mr Izmirlian had made to CEXIM Bank in January.
He said he is now prepared to invest the further funds necessary to open Baha Mar. Mr Christie said at the time that while he has not seen Mr Izmirlian's offer, he can only assume that it is an attractive one.
"Clearly Izmirlian comes from a family that isn't short on money," Mr Christie had said at the time.
"... I think it's a question of the bank making the right decision on what's best for them and The Bahamas. What Mr. Izmirlian has advised me is that he has put in an offer or offers that will not cause the bank to lose money."
This exchange was published in April this year.
Mr Fitzgerald also reacted to criticism of why a representative of China Construction America (CCA), Tiger Wu, is a member of the Claims Committee that was established to administer claims to Baha Mar creditors and former employees despite the fact that CCA's creditors will not receive payouts during the claims process.
CCA is Baha Mar's general contractor.
"The project at the end of the day has to be managed by CCA," he said. "There was a concern that there may be conflicting claims made and that the committee, not having any understanding or appreciation for the construction itself, will want to ensure that the claims are legitimate and that there weren't going to be double claims with someone making claims against Baha Mar and also having a claim at CCA level. We wanted to ensure there was no overlap or double payments being made. It was thought it would be good to have someone on the committee who had intimate knowledge of the job site and of what was required. (Mr Wu) was perceived as being the best person for that."
Mr Fitzgerald emphasised that creditors of CCA will be paid through a process designed by that company.
"CCA is not in liquidation," he said. "CCA is a legal entity that's going on. That's not been the centre of our concern. CCA is a very wealthy company. So we have met with CCA and they indicated to us that they will satisfy reasonable and credible claims before they move forward and we will hold them to that."