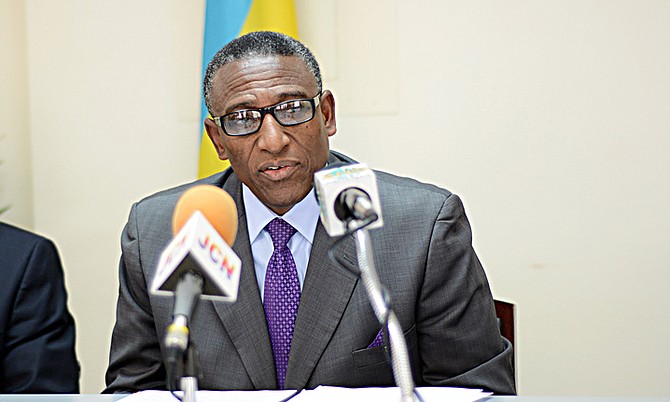 By RASHAD ROLLE
Tribune Staff Reporter
rrolle@tribunemedia.net
AGRICULTURE Minister V Alfred Gray said yesterday that the Florida Fish and Wildlife Commission's (FFWC) amendment of its laws governing fish brought from the Bahamas into the state will be good for this country.

Some Bahamians had complained that the amendments will detract from their fishing efforts and reflect willingness by the government to capitulate to poachers rather than to stop them.
ReEarth President Sam Duncombe told The Nassau Guardian earlier this week that through its amendments, Florida was lowering the barriers to recreational fishing from the Bahamas, a result she said was "very disturbing".
Those regulations came into effect on Tuesday.
Among other things, the regulations allow anglers to keep filleted dolphin, wahoo and reef fish caught in the Bahamas and to bring them back to Florida.
In response to concerns, Mr Gray said yesterday that sports fishing is a tourist attraction in the Bahamas that brings in millions of dollars.
He said the government believes people who engage in such an activity should be allowed to take some of the catch with them back to their locations.
"Florida boaters have long been able to legally fish and export marine resources to the United States," Mr Gray said at a press conference to announce the start of the new school year for the Bahamas Agriculture and Marine Science Institute (BAMSI).
"However, the quantities fished and/or exported must be in keeping with the catch or bag limits imposed by the Fisheries Regulations.
"Further, the regulations require that those who wish to fish in Bahamian waters must first enter at an official port of entry and obtain a sports fishing permit before engaging in any fishing commences.
"In clarifying what quantities of fish which may be legally caught by foreign boaters, Regulation 40 of the current Fisheries Regulations states that no more than 18 individual fish of the migratory species such as kingfish, dolphin, tuna or wahoo is to be found abroad the vessel at any time; all billfish, such as marlins, sailfish or swordfish, caught must be returned to the sea unharmed, except where they are landed under the provisions of an approved sports fishing tournament or event."
He added that no turtles and no more than six conch, ten crawfish or 60 pounds of fish can be taken on board a vessel at any time.
He added that the ministry's study of the FFWC's amendments should
prove beneficial to the Bahamas.
He also noted that under the Florida amendment, fillets must retain their skin so fish species can be identified and verified for inspection compliance purposes.

"These provisions will assist with determining the species and number of individual fish caught," he said.