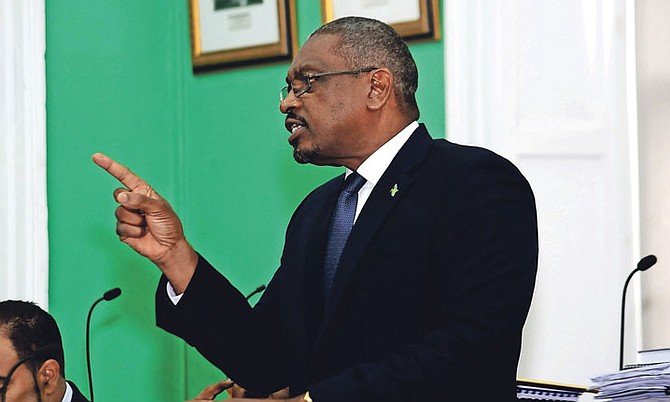 By KHRISNA VIRGIL
Deputy Chief Reporter
kvirgil@tribunemedia.net
WITH two lives lost this week to senseless gun violence, Free National Movement (FNM) Leader Dr Hubert Minnis castigated the government for celebrating this year's murder count, which is comparatively lower than last year.
The country has so far recorded 74 homicides in 2016; by this time last year there had been 107 murders.
However, despite this 30 per cent decrease and no murders during the month of July, Dr Minnis said: "Numbers can lie, as the PLP government's rosy outlook does."
He said crime is killing this country's communities as he pledged that the party would work every day to ensure children, mothers and fathers do not continue to become tragic statistics.
"We at the FNM believe our people are more than numbers," Dr Minnis said in a press statement on Wednesday night. "Numbers can lie, as the PLP government's rosy outlook proves.
"The PLP have been in celebration mood that the murder rate is lower than the historical high of last year. The PLP government should try to convince the 74 families who lost their family members to murder this year that things are getting better. To the PLP those people are numbers, to the FNM they are tragic victims of a leaderless government that spends more time on rosy PR than on truly solving problems."
He added: "It is with great sorrow that I extend mine and the FNM's sympathy to the families affected by the recent spurt of murders. It is truly a sad day in the Bahamas when our children are involved and killed or shot in shootings in their neighbourhoods.

"Our children should feel safe and not under the constant fear of being innocently caught up in shootings while innocently coming back from the water pump."
He was referring to a triple shooting off Peardale Street, near Wulff Road, which resulted in the deaths of two men on Tuesday night. They were standing with a group of men in the area when gunmen emerged from nearby bushes and opened fire.
An eight-year-old boy was also shot during the incident as he was walking from a nearby water pump. He is said to be in stable condition in hospital.
McKenzie Telusnor, 22, died at the scene while 35-year-old Mark Davis, a newlywed and father of an infant and seven-year-old boy, died in hospital.
Last Friday 35-year-old Marisha Bowen, a pregnant mother of two, was found dead in her apartment. Police discovered the Guyanese woman shortly after 8am. Sources said she died of a single wound to the throat.