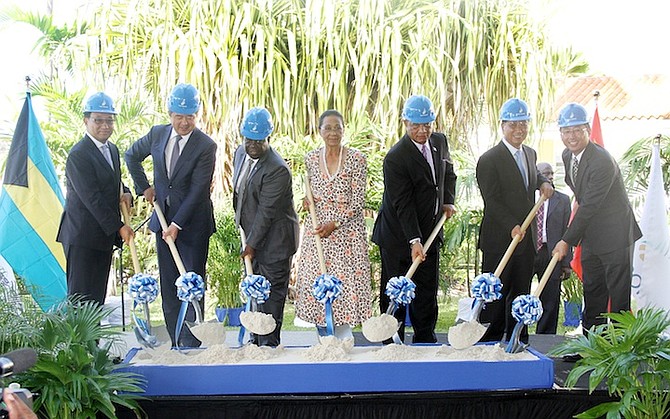 Malcolm J Strachan doubts that former Baha Mar employees will be paid what they are owed in full come settlement time at the end of the month . . .
Thousands of former Baha Mar employees will be faced with a very serious and personal decision by the end of this month.
For these former Baha Mar nation "Bleed Bluers", they will be confronted with the decision of whether or not to accept the package being put forward to them by Perfect Luck Ltd and the Creditors' Claims committee. According to all accounts, the sums being offered will be below the actual amounts owed.
For these former workers, they will have to make the personal decision to forgo sums to which they are legally entitled and accept whatever is offered to them. After all, as the claims committee so eloquently opined last week, these ex gratia payments are being made on a "take it or leave it" basis.
The committee said: "We will certainly consider correcting the settlement sum offered to you if there has been a mistake. However, please note that while we are happy to discuss your case, you have no legal entitlement to any funds that the committee is administering, and the offer that will be made to you is on a 'take it or leave it' basis."
This, therefore, leaves these former Baha Mar staff members with little doubt as to where they stand. In short, 'take it or leave it', the choice is yours.
And for those bold enough to object to the sums offered to them, the committee warned that if they sought to take legal action against the resort, this was "unlikely to result in a material payment to you".
This language is far from that used by our Government on August 22. Who could forget our Prime Minister Perry Christie wooing the nation with promises of a deal done on Baha Mar between the government and the China Export Import Bank to remobilise the stalled resort?
Mr Christie said the former employees would be paid monies owed to them and Bahamian creditors and contractors with claims would get a substantial portion, if not all, of what was due to them as well.
At the time, Bahamians throughout the length of this country paused and waited for the next shoe to fall. After all, we have been here before with our Prime Minister. He has cried wolf so many times, one hardly believes a word he says. And, with all due respect, the Bahamian people are tired of the smooth talk and shuffling. Action is what is required now; action on behalf of Bahamians. But that is not what we got out of this deal.
We have seen in the days and weeks that have transpired that what our administration has signed off on has been a colossal disappointment, once again. The simplest of things - the full payment of Bahamian creditors has not been secured.
This should not have been something difficult for Mr Christie and his ace team of "independent" negotiators to accomplish, should it?
After all, the property's original developer Sarkis Izmirlian had put forward an offer that secured their interest, where all Bahamian creditors would be paid in full, so any new deal had to at the very least start there. Correct?
Sadly, it did not.
This deal, we have seen, only protects the interest of the Chinese, and not Bahamians. Even the name of their special purpose vehicle, Perfect Luck Ltd, is an insult. It shows the true disdain that our Government, or the Chinese, have for us. Perfect Luck for whom? Not the workers. Not Bahamian creditors. They must be referring to the only party that comes out smelling like roses - the Chinese.
But we should not be surprised that the Progressive Liberal Party would treat their own in such a manner. For nearly a year and half, they have sat on this property, dragging it through the courts, as families have struggled to make ends meet. Former workers have had to undergo financial ruin at all levels. Some would have had to sell property, move back in with their parents, sell their cars, put off weddings or having children all because they had lost their main source of income. And what was worse, they didn't even receive their severance packages.
These Bahamians have had to sit in dark rooms at night as their electricity was turned off, lean on friends and family to make ends meet, and handle the humiliation of doing odd-end jobs to simply survive.
As one former worker who wrote to us explained, Baha Mar was the only place that would have hired him. Having made some mistakes in his past, the young man said he started out at the resort in the intensive training at the Leadership Development Institute before graduating to his dream job, working in the Baha Mar Casino Hotel. For that job, he said, he was eternally grateful.
Baha Mar was a dream, he said, to many, but a reality to him and his family of four. Now, he has to hustle to make ends meet. He, like many others, are desperate for their money, and we understand completely.
Our elected officials have likely never known what it feels like to go hungry, or do without. How could they? They have lived high off the hog for decades in some form or fashion. Whether under the table, over it, or on the side they have all made personal fortunes off the backs of the Bahamian people.
It has only been us who have been left wanting after they have demitted office.
How else can one explain how some of them go into politics with meagre means and leave as multi-millionaires?
They do not feel the struggles that you or I feel. How could they?
So why would it matter if they give these former workers cents on the dollar for their monies?
It doesn't affect them, really. The only worry they truly have is the impending general election and whether this gesture could be purposed for them politically into "goodwill" (i.e. votes).
Don't believe me? Just look at what James Smith, the head of the Creditors' Claims Committee told The Tribune last week: "We wanted to do that [payout the employees] first because it shows goodwill and there will be a higher satisfaction rate among a larger number of people."
So here we are. Many of those former employees were expecting to receive calls or emails last week about their payments. From what we understand no such calls or emails occurred, which is appalling. Another self-imposed deadline they have missed, and no apology.
We can only imagine what will happen by the end of the month. We hope that these workers will receive every penny they are owed.
This vulture committee should not be allowed to walk away with millions of Bahamian dollars via these "secret concessions" that our Government has agreed to. It's high time that Bahamians come first in their own country.
• Comments and responses to insight@tribunemedia.net