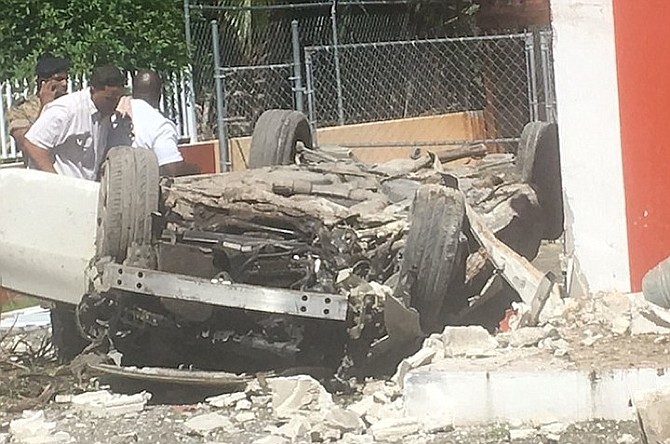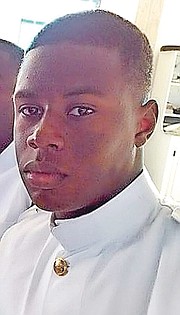 By SANCHESKA
DORSETT
Tribune Staff Reporter
sdorsett@tribunemedia.net
POLICE are still unsure what caused a deadly traffic accident on Coral Harbour Road on Friday afternoon that killed a Royal Bahamas Defence Force marine and left another man fighting for his life in hospital.
Officer-in-charge of the Traffic Division, Assistant Superintendent Craig Stubbs said police are hoping to speak today with the surviving victim, who is in the Intensive Care Unit at Doctors Hospital.
ASP Stubbs said the impact of the crash was so forceful that the car hit two coconut trees, collided into a wall and then went airborne before hitting a church and landing on its roof. The passenger of the vehicle was killed instantly.
Police have not released the identity of the victim, but The Tribune understands he is 24-year-old marine mechanic Roger Smith.
"We are still trying to put together what happened and are still actively investigating the scene," ASP Stubbs said.
"We are hearing so many stories about how the accident happened and we are hoping to speak with the driver of the vehicle on Monday. From what we know from the physical evidence, the white Nissan 300z vehicle, occupied by two men, was travelling south on Coral Harbour Road, when for an unknown reason it veered to the left of the road.
"The driver lost control of the vehicle, crashed into some trees, before hitting a wall and slamming into a church. The vehicle was extensively damaged. The male passenger was pronounced dead at the scene. The adult male driver was transported to hospital where he remains in critical condition."
ASP Stubbs said speed was definitely a factor in the crash. He urged drivers to adhere to the rules of the road and to slow down.
"We continue to reiterate that we need drivers to obey the speed limit in all zones even if you feel there is limited vehicular traffic on the road at the time. In most of the cases where a person dies in an accident, speed is a factor," ASP Stubbs said.
"In this case, when we look at the damage done to the vehicle and the surrounding property we can see that speed played a role."
The accident, which occurred shortly after 3pm, happened a day after 26-year-old Jasmine Hall lost control of her vehicle and slammed into a tree on Yamacraw Hill Road. She was pronounced dead at the scene.
ASP Stubbs said speed, in addition to the wet condition of the road, could have led to the accident.
Investigations continue into both incidents.