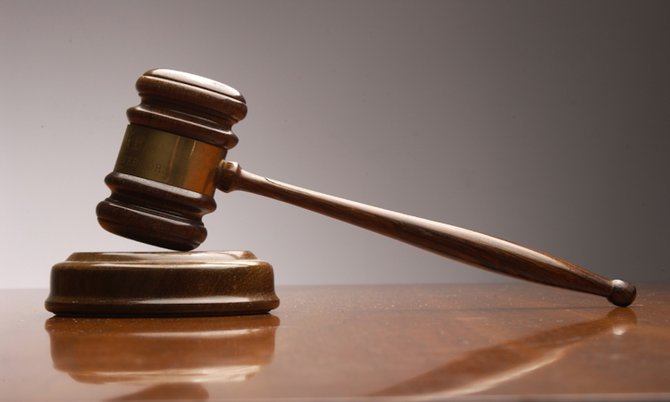 By LAMECH JOHNSON
Tribune Staff Reporter
ljohnson@tribunemedia.net
A JUDGE yesterday declared that she will not allow two lawyers "to frustrate the process" of a contempt proceeding that had been initiated as a result of their accusations of bias on the part of the judge who is presiding over a judicial review concerning expansion of a property in Lyford Cay.
Keod Smith and Derek Ryan were due to appear before Justice Rhonda Bain for a contempt hearing to show cause why they should not be committed to prison concerning a series of affidavits filed by Mr Smith, who was represented by Mr Ryan, in January 2014. However, they were no shows for both the morning and afternoon sessions of court.
Notices to Show Cause were issued by the Supreme Court last month - August 18 - addressed to both men. The same had also been sent to Elliot Lockhart, QC, who represents both lawyers in the contempt matter.
It was revealed by Justice Bain in yesterday's morning session of court that "despite numerous attempts by the bailiff, the court was unable to effect service on Keod Smith or Derek Ryan".
Justice Bain said that specifically in the case of Mr Smith, bailiffs had been denied at his law firm Commercial Law Advocates. Bailiff Jack Davis filed an affidavit concerning the failed attempts in this regard.
Mr Lockhart was asked about his client's whereabouts.
"I've not seen Mr Keod Smith in two months and I've not been to his chambers for the year," the senior lawyer said.
Concerning Mr Ryan, Mr Lockhart said he received a letter dated September 12 from Dr Jean-Marie G Eugene of the Grema Medical Services, LLC based in Port St Lucie, Florida, indicating that Mr Ryan "has been under my care for the past three months for (a) chronic medical disease".
"Mr Ryan has to come for frequent office visits for his treatment. Therefore, I forbid him to travel at this time outside the United States of America not to jeopardise his treatment plan," the letter stressed.
No information was given by the physician with respect to when his patient would be able to travel to the Bahamas for the proceedings.
Fred Smith, QC, who appears for Save the Bays as a watching brief to the proceedings, said the attorneys should have been present.
"Mr Keod Smith is an officer of the court," he said. "He has counsel. Counsel has confirmed both of his clients for scheduled hearings. I simply say the whole recusal process initiated by Keod Smith was found to be answerable and called on by the court to show cause why they should not be committed."
"These judicial review proceedings have been held up by Mr Smith. The time has come for the court to take some strong action for him to make himself available to the court."
As for Mr Ryan, Fred Smith added that the letter should have been made available at an earlier opportunity.
Justice Bain adjourned the proceedings to 2.30pm to consider the next step.
When the matter resumed, both lawyers were still absent and Justice Bain made a decision.
"As this is a matter for Keod Smith and Derek Ryan to show cause why they should not be cited for contempt and committed to prison, it is imperative for Keod Smith and Derek Ryan to be personally served and for them to be present in court to show cause," the judge said.
"Nevertheless, the court will not allow Keod Smith and Derek Ryan to frustrate the process. The court adjourns this matter to a date to enable the court to make further effort to serve Keod Smith and Derek Ryan. If the court is unsuccessful with effecting service on Keod Smith and Derek Ryan on the return date, the court will then make an order of substituted service," Justice Bain stressed.
The two lawyers will now have until October 12 to voluntarily make themselves available for service or the documents are indirectly served by other court-approved means.
A ruling concerning a site visit to Nygard Cay has been adjourned to Wednesday, September 21.
Justice Bain is presiding over the judicial review filed by the Coalition to Protect Clifton Bay which is challenging an application by Peter Nygard to further develop his premises in Lyford Cay and gain a lease for Crown land reclaimed from the sea.
Fred Smith, lead counsel for the environmental group, alleges that over the last 30 years, Nygard Cay has nearly doubled in size as a result of construction work undertaken without the appropriate permits and in a manner that had caused significant damage to the surrounding environment of Clifton Bay.
In January 2014, Keod Smith filed a series of affidavits claiming that Justice Bain should recuse herself from a judicial review proceeding as she had allegedly made a series of decisions based on her affiliation with the Free National Movement.
Ten months later, Keod Smith attempted to withdraw the applications for the recusal, notwithstanding a section of an affidavit filed in January entitled "Justice Bain, who is she?" He alleged the judge once worked under former Prime Minister Hubert Ingraham, that she was appointed to a high-ranking position in the Attorney General's Office because of her ties to the FNM and that her two sons were fathered by a person he claimed is a close friend and advisor to Mr Ingraham.
Keod Smith also claimed that Justice Bain had made several rulings in favour of Fred Smith, who in the past had been affiliated with the FNM, and "can only be explained as coming about as a result of her bias."
Justice Bain, in December 2014, found Keod Smith guilty of contempt for the "scandalising" affidavits he had filed which undermined the integrity of the judge and the judicial system. His then lawyer, Mr Ryan, was also informed that he "cannot escape liability" for the affidavits.
At a contempt hearing a month later, Mr Lockhart appeared for Keod Smith, a former Progressive Liberal Party MP, and expressed his reservations about the proceedings and argued that the court had already arrived at a determination without first considering any evidence to refute the pair of contempt.
The judge ruled, after a hearing in March 2015, that the court would proceed with notice against the attorney to show cause why he should not be committed to prison.
However, the judge stayed contempt proceedings pending the outcome of Keod Smith's application before the Court of Appeal.
In January of this year, Mr Lockhart was unable to convince appellate court judges that his client's appeal was not premature and Mr Smith's appeal was dismissed.
Mr Smith represented the Mount Moriah area from 2002 to 2007.