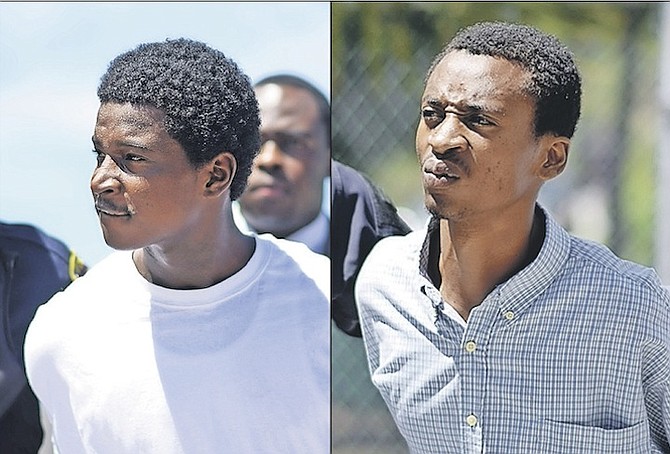 By LAMECH JOHNSON
Tribune Staff Reporter
ljohnson@tribunemedia.net
TWO men were charged with murder yesterday in connection with a triple shooting that left two men dead and a child in hospital earlier this month.
During the arraignment, the lawyer for one of the accused complained to a magistrate that his client had allegedly received death threats from prison inmates.
In the arraignment before Chief Magistrate Andrew Forbes, Quentino Carey, 23, through his lawyer Bernard Ferguson - said he had received death threats from inmates at the Bahamas Department of Correctional Services.
Chief Magistrate Forbes made a note of the complaint and said he would speak with the Commissioner of Prisons about Carey's security while he awaited trial for the deaths of Mackenzie Telusnord and Mark Davis in Peardale.
Carey and co-accused 19-year-old Jakota Johnson faced two counts of murder and a charge of attempted murder after they were escorted into the Nassau and South Streets court complex by armed police officers.
The murder charges fall under Section 291 (1)(B) of the Penal Code, meaning the accused will not face the discretionary death penalty if a conviction is reached at the end of trial in Supreme Court.
It is alleged that the pair, being concerned together on September 13, caused the deaths of Telusnord and Davis.
It was further alleged that they attempted to cause the death of eight-year-old Avanti Morley.
According to initial reports, shortly after 7pm, a group of men were standing outside a home when three individuals emerged from nearby bushes all with handguns and opened fire into the crowd.
Telusnord and Davis were struck about the body along with young Avanti, who was also shot. Telusnord died at the scene while Davis died of his injuries in hospital three hours later.
The accused were not required to enter a plea to the charge and were told that their case would be fast-tracked to the Supreme Court on October 24.
Before they were remanded to prison without bail, Mr Ferguson also requested that his client be seen by a physician because of an ongoing medical condition. The court said it would make a note of it.
Johnson was not represented in his arraignment and offered no complaints.