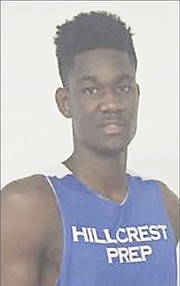 By RENALDO DORSETT
Sports Reporter
rdorsett@tribunemedia.net
THE top high school basketball player in America for the class of 2017, Bahamian blue chip prospect DeAndre Ayton will return home this fall to compete on the season's circuit.
Ayton and his Hillcrest Prep Bruins out of Phoenix, Arizona, are expected to participate in the "Sand Between Your Toes Showcase," to be hosted November 17-18 at the Kendal Isaacs Gymnasium.
The showcase will be a part of the widely renowned Grind Session Tournament series.
The showcase in the Bahamas includes a highly rated group of teams, including Conrad Academy (Orlando, Florida), Victory Rock (Bradenton, Florida), Prolific Prep (Napa, California), Prolific Prep North (Sault Ste. Marie, Ontario) and another team to be announced at a later date.
Ayton chose to end his recruitment process before his senior season ever began when he announced his decision to attend Arizona, in a press conference broadcasted live on ESPN's SportsCenter earlier this month.
"I'm glad I committed to U of A, man… so glad. If I had committed to the others, I think I would have been mad, because I didn't want to leave my family," said Ayton in an interview with tucson.com. "With a coach like coach Miller (Sean Miller), we can make history. I really intend to give him his first final four (NCAA Final Four appearance). I think I can really change the college game."
The No.1 recruit for the class of 2017, he chose Arizona over Kentucky and Kansas. He became the first top overall recruit to commit to a Pac-12 team since Kevin Love did so for UCLA.
The Arizona recruiting class for 2017 was listed at No.38 but since Ayton's announcement has vaulted all the way to No.9.
The 7'0", 235-pound high school basketball phenom, currently at Hillcrest Academy in Phoenix, Arizona had a busy summer on the circuit which included stops on the Nike EYBL, Adidas Nations and for the Bahamian national team.
"I made Arizona home at Hillcrest Prep," Ayton said during his announcement. "My mom, my family can benefit coming to my games. We really trust their programme. I know they can help me get to the next level."
During the course of the regular season, Ayton averaged 30 points, 19 rebounds and 5.7 blocks for Hillcrest.
On the competitive Nike EYBL Summer Circuit with California Supreme he averaged 19.8 points and 11.6 rebounds per game this season. He concluded play at the EYBL Peach Jam where he averaged 21 points, 13.2 rebounds and three blocks per game.
At Adidas Nations, he averaged 17.4 points and 11 rebounds per game as his team went undefeated en route to a tournament title.
He also made his Bahamian national team debut with the men's Centrobasket team that finished seventh in Panama.