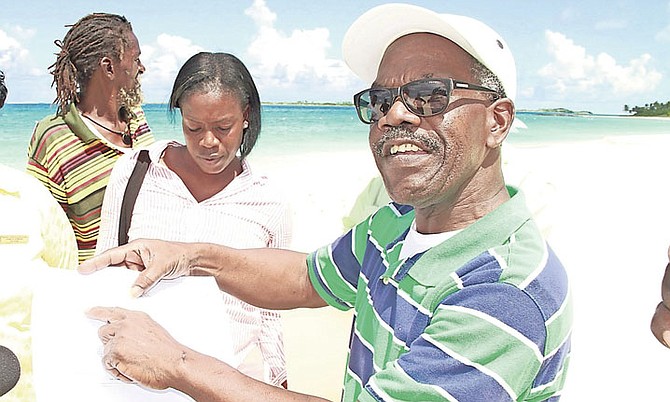 By RICARDO WELLS
Tribune Staff Reporter
rwells@tribunemedia.net
DESPITE the conclusion of several court matters, members of the Cabbage Beach Business Owners Association said they are still being blocked from operating on the beach by law enforcement and private security forces.
Senior members of the association, backed by several other concerned citizens, held a press conference on the shorelines of the beach property, pinpointing many of the problems blocking them from operating on a day-to-day basis.
CBBOA President Monique Taylor said members of her association are at their wits' end and don't know where else to turn, as many of them are now unable to make ends meet, as police and security officials have ramped up efforts to bar them from the Cabbage Beach property.
Detailing a series of arrests in recent weeks, Ms Taylor said events have got so out of hand, that she herself spent this past weekend behind bars, accused of trespassing. She claimed that she was operating in the same way she has for her entire career on the beach.
"Today we came to shed light on some issues and bring exposure to have the issues addressed. At present now, working on the beach we have a lot of harassment from the hotel's security officers, along with officers from the Royal Bahamas Police Force," she told reporters.
Association representatives indicated that the operators of the Ocean Club Beach Estate and the Paradise Island Beach Club have been more deliberate in their efforts to have members allegedly removed from the sections of Cabbage Beach directly behind the properties.
There are claims that an entry point furthest east on the property gives access to the part of the beach that is affixed to private property. If the claim holds true, the public easement, directly in front of the Paradise Island Beach Club, would allow vendors access to the beach, but would block them from setting up stalls in that section.
Vendors would then be relegated to operating their businesses nearer to the western easement that leads to Cabbage Beach - the section where vendors tore down a fence blocking access to the beach in March.
Ms Taylor said: "Even though we have a business license to operate on Cabbage Beach, it is said that Cabbage Beach is not this section which we are located on - in front of Ocean Club Estates and the Paradise Island Beach Club. But we have a map that clearly outlines Cabbage Beach being this entire area and apparently, when they had a problem with the vendors being on this part of the beach, they said to officers that this area is private and (they wanted vendors off the property and or arrested for trespassing)."
She added: "Just Saturday gone, two officers came out here and they arrested me for operating my business on Cabbage Beach with a legitimate business license, and a number of other vendors are being harassed because they are working out here."
Ms Taylor said the matter has only been made worse, as the operators of the Paradise Island Beach Club are allowed to rent both umbrellas and chairs to persons accessing the beach - further hampering the business of vendors.
"The Beach Club is a well established hotel. I think it is wrong that someone from the government department has not come down and looked into this. Yet they decide to interfere, harass, arrest and unlawfully detain vendors who have business licenses."
CBBOA Secretary General and Consultant Randy Rolle criticised senior members of the government, labelling the Christie administration as accessories to foreign investors attempting to plunder the Bahamas for its tourism value.
"Three generations of vendors have been on this beach, for more than 60 years," he said. "The law states that if an easement has been unused for more than 12 years you cannot come back and say you didn't know."
He added that the law makes provisions for beach access.
The Cabbage Beach issue has been a contentious issue for most of the year.
Back in March dozens of irate beach vendors blocked traffic flow over to Paradise Island in protest of the sudden closure of the main entry point for vendors to the beach.
That incident led to the arrest of at least two persons, and further protests in the days that followed.
The dispute climaxed with the tearing down of the fence erected in a bid to block access to the property by vendors.
Subsequently, 10 persons were taken into custody, charged with destroying private property - the fence.
One of those persons, concerned citizen Francis Johnson, yesterday stood in support of the Cabbage Beach Business Owners Association.
She called on Tourism Minister Obie Wilchcombe and Prime Minister Perry Christie to stand by their political adage of "believing in Bahamians" and intervene in the matter.
"Well if you believe in Bahamians, this is a part of the Bahamian problem," she said. "There are Bahamians who are going through this problem."