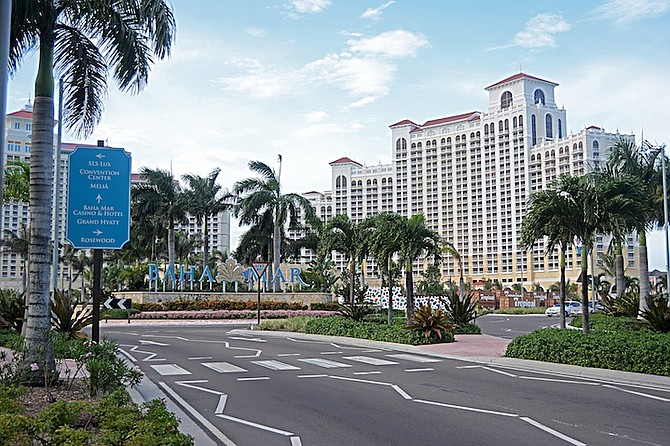 Former foreign employees of Baha Mar have to wait until October 31 to see if they will recover what is owed to them, while their Bahamian counterparts have been reminded of the "take it or leave it" approach.
Tribune Business can reveal that expatriates who submitted claims to the five-person Baha Mar creditor payout committee have been reminded of their status - they stand at the back of the creditors' queue.
An e-mail reply by the committee to one former overseas staffer, which has been obtained by this newspaper, emphasises that the staff payouts - set to begin tomorrow, and take place over a three-day period this week - are for former Bahamian staff only.
"As previously indicated, the committee's immediate goal is to settle the claims of former Bahamian employees by September 30, 2016," the e-mail says.
"As such, the payment instructions and upcoming cheque distribution dates recently published are applicable to former Bahamian employees only.
"The committee has received your claim and will be in touch with you by October 31, 2016."
That date coincides with when the committee should have decided, and be starting to payout, the funds owed to non-employee Baha Mar creditors - namely Bahamian contractors (not those owed by China Construction America) and vendors/suppliers.
This implies that all foreign creditors of Baha Mar, both ex-staff, contractors and vendors, will have to fight over what little 'scraps' are left from the $100 million being made available by the China Export-Import Bank. The majority of this will likely have been exhausted by the Bahamian creditors.
One source, speaking out on behalf of Baha Mar's former foreign staff, said: "How is this fair when these people were brought in, and encouraged to leave other jobs to come here.
"These persons worked without pay for three months following the Chapter 11 filing. The foreign staff did not get a penny, and some of these guys are owed a substantial amount of money."
Several persons, including Democratic National Alliance (DNA) leader Branville McCartney, and Fred Smith QC, the Callenders & Co attorney and partner, have spoken out about the dangers of discriminating against Baha Mar's foreign creditors in the claims payout process.
While nobody is objecting to Bahamian creditors being paid what they are due, by agreeing to a claims process that discriminates in favour of locals over foreigners, the Government may have opened up some unintended consequences - namely the potential for collateral damage to this nation's investment reputation.
This was echoed by a Bahamian attorney, speaking on condition of anonymity, who confirmed they had been retained by several of Baha Mar's foreign creditors in case legal action was necessary to safeguard their rights.
These creditors will be submitting their claims, and associated proof of the sums owed, to the Baha Mar creditor payout committee, before settling back to watch how they will be treated.
The Government's priority in the agreement with the China Export-Import Bank was for Bahamian creditors, namely local contractors, vendors and the former Bahamian staff, to receive what they were due. Claims valued at $500,000 or less are likely to be made 'whole', while those owed higher sums are likely to receive a substantial portion of what is outstanding.
But in a normal receivership/liquidation claims process, whether under the supervision of the Supreme Court or not, secured creditors (in Baha Mar's case, the China Export-Import Bank) get first picking over the remaining assets.
Next behind them in the creditors' queue are the Government and former employees' claims, with all other creditor groups further down the line.
There is, though, no discrimination on the grounds of nationality. The Government and China Export-Import Bank have been able to structure the claims payout process such because the $100 million to fund it is coming from the latter, not Baha Mar and its group of companies, meaning that it can take place outside the ongoing receivership/provisional liquidation process.
Meanwhile, the creditor payout committee has been responding to queries from Baha Mar's former Bahamian staff by reminding them that they have little choice but to accept what is on offer this week.
"The settlement sum is in line with the employee's historical payment record for the employment period through October 2015. This figure has been recalculated since October 2015 to confirm our records," the committee said in an e-mail to one employee, who had queried its sums.
"The committee's intention is to ensure that all amounts due to employees will be paid. We will certainly consider correcting the settlement sum offered to you if there has been a mistake.

"However, please do note that while we are happy to discuss your case, you have no legal entitlement to any funds that the committee is administering and the offer that will be made to you is on a 'take it or leave it' basis."
James Smith, the chairman of the claims committee, in the standard e-mail sent to all Baha Mar staff, emphasised: "Our immediate priority is offering payment of certain claims of Bahamian employees of Baha Mar Ltd or its subsidiary companies (Baha Mar) who were made redundant in 2015 as a result of Baha Mar's insolvency.

"We have now finished reviewing the books and records of the relevant Baha Mar companies, and confirmed the amount due to you. I am delighted to write to you on behalf of the committee to explain how you can now claim the money that is available for you."
The former finance minister later told Tribune Business: "The machinery [for payouts] has been put in place now, and once the day comes we expect the majority of persons to show up on site and receive their payment.
"The emphasis has really been on trying to meet these deadlines, as the majority of claims will be coming from the former workers."