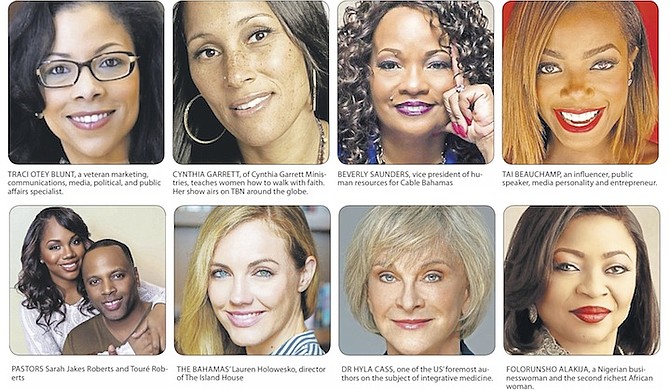 By JEFFARAH GIBSON
Tribune Features Writer
jgibson@tribunemedia.net 
Africa's second richest woman, the daughter of TD Jakes, and some of the Bahamas' most successful businesswomen will be in attendance at the first International Women's Empowerment Summit (IWES) to be held here in Nassau next month.
Professional women from all walks of life will have the opportunity to inspire one another and exchange ideas on how to navigate successfully through the male-dominated business world during the summit.
IWES is a forum for women professionals and entrepreneurs from around the world to meet, inspire and learn from each other. The inaugural event is being hosted by the Ministry of Tourism in partnership with StartUp Woman, and in collaboration with UN Women. 
Guest speakers will include well-known activists like Sarah Jakes Roberts, daughter of TD Jakes and pastor of One Church LA, and Ted Bunch, co-founder of "A Call to Men".
The summit will take place from October 19 – 21 at Atlantis and is promises to feature "life-changing" activities, including eight panels.
The panels will include a session on the United Nations' solidarity campaign called "HeForShe", which has been gaining traction worldwide over the last two years.
Other topics include "Business as Unusual Women, Doing Business with Confidence"; "Wealth Creation and Economic Empowerment"; "Startup Women"; "Presentation is Everything"; "The Value of Educating a Woman", and "The Balanced Woman".
Some of the featured speakers will include Lauren Holowesko, director of The Island House; celebrity makeup artist Gabby Bernstein; fashion designer Amber Atherton, and Cheryl Tiegs, fashion model and designer.
IWES will also host the launch of the StartUp Woman initiative for the Bahamas – a new enterprise by the founders of WIE Network, which shines a spotlight on woman-owned SMEs in the UK, US, and now in the Bahamas. With the support of StartUp Woman Bahamas, six notable women will be invited to mentor six young Bahamians who aspire to one day be entrepreneurs. 
Joy Jibrilu, Director General of the Bahamas Ministry of Tourism, said the summit is a gateway for Bahamian organisations, students and corporate groups to make create a retreat.
"I should stress that even though it's called International Women's Empowerment Summit, it is open to men," she said.
"In fact, our first registrant was a male, so that speaks to the fact that all people feel they can learn from the speakers. On the UN Women's panel, there's a speaker coming from the United Nations and he's a male. He works with UN Women and he will the featured speaker, and our closing panel is the UN Women's panel. HeforShe is an organisaiton advocating on behalf of women, so it's open to men and women," she said.
Dawn Demeritte, senior executive of communications at the Tourism Ministry, said the summit offers something for every woman. 
"The summit will be extremely beneficial for everyone who can attend because we've searched high and low for phenomenal women who have made an impact to share their stories, their lives and their trials and tribulations. Everyone that attends will be able to relate to at least one of the panel speakers and will be able to apply it to their lives, their business, their career or brand," she said.
"Events such as IWES are needed to firstly show that the Bahamas is more than sun, sand and sea. They're also needed to support our people; let them know that we see what they are doing and assist in building a better Bahamas. Lastly, they're also needed to further develop the Bahamas through its women and to continue to inspire them to always strive to be better."
Ms Demeritte said participants will be able to glean a great deal of information from the speakers.
"It is our hope that IWES inspires women to take a leap of faith and pursue their dreams. We have found the highest calibre and quality of speakers to share their stories and the obstacles they have faced to be where they are. There are some phenomenal Bahamian women on the panel who have come from nothing and have made their own path to get where they are. So whether attendees want to begin a business they've dreamed about for years or ask for that raise, we hope that this summit provides that boost needed to live the life they have always imagined," she said.
For more information and to register for IWES 2016, visit bahamasiwesummit.com.