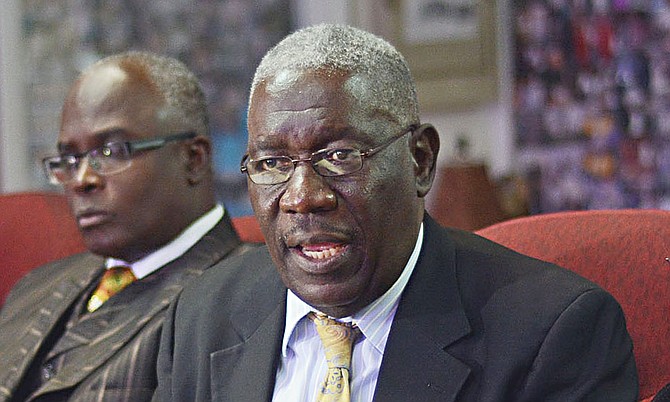 By NICO SCAVELLA
Tribune Staff Reporter
nscavella@tribunemedia.net
A prominent CLICO (Bahamas) policyholder yesterday said he is "very optimistic" over a potential resolution to the eight year debacle, saying that the "light at the end of the tunnel" could come within the next two weeks.
Bishop Simeon Hall, pastor emeritus of New Covenant Baptist Church, said he has been informed that CLICO (Bahamas) is due to make an "announcement" about a potential resolution to the debacle "in another week or two."
Bishop Hall said based on his information, CLICO (Bahamas) officials are currently under a "court gag order," which he surmised has prevented them from making any public pronouncements about the matter.
Bishop Hall said the same was communicated to CLICO (Bahamas) policyholders during a "mass meeting" held at New Covenant church on Sunday afternoon. He said while some policyholders present at that meeting wanted the group to do "some more dramatic things," he, along with four other pastors managed to convince the group to "wait to see what the government is about to do in a week or two."
Bishop Hall's statements came a little over two weeks after he cautioned the management of the insolvent insurer and the Christie administration to resolve the eight-year long debacle no later than this month. Bishop Hall had threatened to hold an "urgent mass meeting" with policyholders if a resolution is not reached.

At the time, Bishop Hall said policyholders were "languishing in uncertainty" as neither CLICO (Bahamas) nor government officials have indicated a possible end to the controversy.
This comes after a previous promise by officials that "financial bonds" would be distributed within a "few months" after March, when a collective $16m payout was issued to victims.
"I'm very optimistic that something should be said within the next couple of days," Bishop Hall told The Tribune yesterday. "Based on the information I have, I believe CLICO (Bahamas) is about to make an announcement relative to bringing some resolution to this saga.
"I'm speaking from my optimism. CLICO is under a court gag order, that's why they have not been able to come to meetings like this and divulge information. But I was able to ascertain quite a bit of information, that's the basis for my information."
"I expect in another week or two to have some resolution to this matter," he added. "So on the one hand we are protesting, we are agitating, and on the other hand we are commending, because there is a light at the end of the tunnel because of what happened in March."
Regarding the threat of some form of action should there be no resolution to the controversy, Bishop Hall said policyholders will wait to see whether or not an announcement will be made at the end of the next two weeks.
"…Persons at the meeting, some persons wanted us to do some more dramatic things, but I led them in concluding that we should wait to see what the government is about to do in a week or two," he said. "We must, as strong as our cause is, as strongly as we are fighting, we want to commend the government for beginning the process to bring a resolution to this matter."
In March, Prime Minister Perry Christie promised that a collective $16m cash payout would be issued to victims of the CLICO situation before the end of that month.
In announcing the payout plan during the mid-year budget debate, Mr Christie said the insolvent insurer's executive flexible premium annuity (EPPA) holders, and surrendered pension policies, would receive a cash payment capped at $10,000.
Anything owed above that sum would be paid off by the issuance to former clients of seven-year promissory notes (government bonds), which will provide them with quarterly insurance payments at the prime rate (4.75 per cent).
In April, Vaughn Culmer, CLICO (Bahamas) operations manager, told The Tribune that the issuance of government bonds would "hopefully" take place "within the next few months."
The payout process began in March as promised, with some policyholders recovering at least some of their life savings and long-term investments, all of which were lost when the life and health insurer collapsed into insolvency in 2009.
Prior to Sunday, however, policyholders have reportedly not heard anything pertaining to the issuance of the government bonds since the March payout. Additionally, some policyholders still have not recovered any lost funds, The Tribune understands.