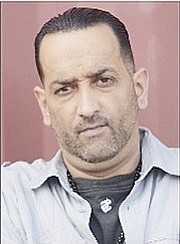 By Inigo 'Naughty' Zenicazelaya
ABOUT two minutes before going live on air for 'The Press Box' on Sunday, my broadcast partner Renaldo Dorsett broke the tragic news of the passing of Florida Marlins ace pitcher Jose Hernandez.
The 24 -year-old Hernandez perished in a boating accident off South Beach, Miami, in an area known as the Government Cut.
It was quite a shock, and I must admit my mind ran instantly to my son, Santxol, a catcher, and his peers, all budding baseball players in their own right in the JBLN's Minor League division.
To kids in the nine to 10 age bracket, Hernandez was a hero larger than life to many of them. The questions surrounding Hernandez's death are going to flow like a tsunami.

Hernandez, in my opinion, should be considered a hero for his exploits off the mound rather than on it. Hernandez defected from Cuba four times, was intercepted three times before finally proving successful on his fourth attempt.
It was also on his fourth attempt that he had to rescue his mother from drowning, surviving the elements on limited rations that were almost completely gone when the group were rescued.
Jose Hernandez soared over many hurdles in his young life and career.
Proving his mettle, gritting it out through many a tough situation in life and on the mound. I think it's important to make sure, for the record, that no negative scenarios are associated with his death.
Here are five key facts provided by Captain Leonel Reyes, of the Miami-Dade Fire Rescue's Marine Services Bureau. Hopefully it will help quell the unfortunate and ugly rumours swirling around his death.

Speed may have been a factor in the accident.

The time the crash occurred is not clear.

Fernandez was not driving the boat.

Fernandez was not wearing a life jacket.

Alcohol and drugs do not appear to have been involved.
Jose Hernandez's untimely death also made my mind wander to other brilliant young athletes struck down in their prime. The number is staggering and there are far too many to mention; however, I will highlight a few that are not too far from the recesses of our memories.
I always wonder how great they would have been and what legacy they would have left for their sport if not cut down so tragically way too soon.
Lou Gehrig

Gehrig was cut down in his prime by ALS, which is commonly referred to this day as 'Lou Gehrig's Disease'. Gehrig died two years after diagnosis halting his streak of 2,130 straight games played.
Brian Piccolo

Piccolo exited a Chicago Bears football game in 1969, complaining of having difficulty breathing. He was diagnosed with'embryonal cell carcinoma. Despite two surgeries, Piccolo was dead eight months after diagnosis.
Benji Wilson
Garnett, Kobe, Dwayne Wade or LBJ couldn' tcarry his jock.
At the age of 17, while on his high school campus Simeon Career Academy in Chicago, Wilson and his girlfriend were involved in an argument. During the row, Wilson bumped another young man from a different high school, another argument ensued after which the other male in question with hand ties, pulled a hand gun out, shooting Wilson twice in the stomach. Wilson died during surgery the next morning.
Wilson has long been considered one of the best, if not the best, high school recruit of all time.
Drazen Petrovic
Petrovic was a stellar shooting guard for the Croatian national team, which included names like Vlade Divac, Toni Kukoc and Dino Radja.
All went on to solid NBA careers, Petrovic also, but sadly his life was taken during his third NBA season when he was killed in a car crash in Germany.
Four passengers were in the car. Petrovic, who wasn't driving, was the only occupant to perish. He died instantly.
Caleb Moore

At the 2013 Winter X games, Moore was attempting a backflip, when the ski from his snow mobile hit the guard rail, causing Moore to crash.
In the accident he was hit by the snowmobile. Despite walking away, Moore was rushed to hospital to treat excessive bleeding around his heart but during surgery he became brain dead and pronounced deceased after the surgery.
Ed Sanders
During the 11th round of their scheduled 12-round fight, Willie James landed a fatal punch on Sanders. He never regained consciousness after the impact of the fatal blow. Doctors tried to remove a blood clot on his brain but it was too late. Eighteen hours after the knockout Sanders was dead, only two short years after winning Olympic gold in the heavyweight division in Helsinki in 1952.
Other famous athletes taken too soon include Len Bias - Boston Celtics, Sarah Burke - Super Pipe Skiing X Games, Hank Gathers - College basketball, Jasper Howard - College football, Reggie Lewis - Boston Celtics, Steve Prefontaine - Track and field, SeanTaylor - Washington Redskins, Derrick Thomas - Kansas City Chiefs, Pat Tillman - Arizona Cardinals/ USMC, Joe Roth - College football.
So until next week, maximise your full potential, leave it all on the field. Tomorrow is promised to no one!

• Naughty presents 'Mischief and Mayhem in da AM' from 6am to 10am, Monday to Friday and 'The Press Box' sports talk show on Sunday from 10am to 1pm, on KISS FM 96.1. Comments and questions to naughty@tribunemedia.net