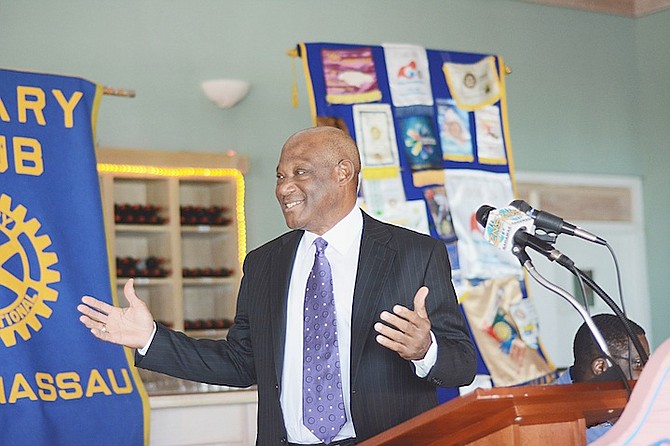 By RICARDO WELLS
Tribune Staff Reporter
rwells@tribunemedia.net
BAHAMAS Junkanoo Carnival was never designed to work as a "profit exercise", according to Bahamas National Festival Commission Chairman Paul Major.
Responding to questions yesterday at a press conference in which the BNFC revealed its economic impact assessment of the event's second year, Mr Major condemned opponents of the festival who continue to look at country's annual investment, instead of the carnival's "economic impact".
He said the festival has never been and will never be about turning a profit on investment, contending that no variation of the event hosted around the world has generated a profit for the host nation.
"Nowhere in the world is a carnival a profit venture. In Trinidad they spend, I think we estimated somewhere around, based on the conversion, $40m a year," said Mr Major.
He said the success of the festival must be measured by the thousands of persons that benefit from the event indirectly.
"It is about the tens of thousands of people that fill their hotel rooms; it is about the thousands of people that rent every available vehicle on the island; it is the thousands of people, one band alone that I participated in, they had 15,000 people in it (in another country) - our total parade hasn't reached there as yet, but we will," he said.
"So those 15,000 people that buy costumes that average prices between $500 and $1,500, that is what it is about. So the GDP impact in that is in the hundreds of millions dollars, and that is the big picture we need to see."
He continued: "We keep talking about what we spend, but you are not looking at the economic impact of what this thing does. It is powerful. And you have got scores of countries that are using this carnival model to be able to draw people to their shores and to be able to expand their GDP."
On Monday, officials released key financial details surrounding the 2016 event, revealing the total cost was $9.8m with a government subsidy of $8.1m.
In April, Mr Major said the government would spend about $7m to host the festival, after Tourism Minister Obie Wilchcombe weeks earlier had said that the government would only inject around $3 million into the event.
However, at the time Mr Wilchcombe said the final figures were still being worked on.
Last year, the government spent $11.3m on the inaugural festival, going over its initial budget of $9m, with the total cost of the first carnival coming in at $12.9m, with the rest covered by sponsors.
When contacted for reaction on Mr Major's comments yesterday, Free National Movement Deputy Leader Peter Turnquest erupted with anger, calling the entire festival scheme "unreasonable," "unbelievable" and "dumb".
He insisted that the Bahamian economy could not sustain another year of this sort of "reckless spending".
He stated: "That is absolutely ridiculous, they need to show the people where and how these figures were determined. Show me the money. You're telling me you spurred business, you boosted the economy - all of this is insane. It is curious that minister of tourism initially presented a $3 million budget. Weeks later, that figure jumped to (nearly) $8 million. That proves that there is no planning being done, they are working with a blank cheque and the taxpayers are footing that final bill.
"I think an investigation needs to be had to determine what exactly is going on with carnival and the BNFC. Absolutely, I think we have to look at last year and this year and determine how the government worked out these numbers because these figures come across as a design to lead the public to a pre-set conclusion," Mr Turnquest said.
"The Bahamian people go in to this festival with expectations, and now, it is clear that our expectations and theirs don't hold up. Now they are saying $8.1 million was the final spend (from the government). Well I'm saying that all of that or part of it could have gone to alleviate many of these problems we are facing in this country," he stated.
"It could have been used to fix the air condition issues at the hospital where lives are at risk. How the hell does it take two weeks to fix a damn air-conditioner? This whole situation is ridiculous."
"His claims that this event was never designed to turn a profit, that is just an incredible statement and it proves that they think the Bahamian people are just going to spend money without any indication on how it is benefiting the overall society. We can't continue to do this, we are going broke and underwater. This entire whole situation is unreasonable, unbelievable and dumb," the East Grand Bahama MP said.
According to the BNFC, the festival in its second year, continued to succeed in its mandate of stimulating economic opportunities for businesses in the creative sector and positively impacting the national GDP.
Officials estimated that some 278 small and medium businesses and 696 individuals benefited directly from the expenditures related to the annual festival, 85 per cent of which was spent locally with suppliers across a myriad of sectors.
The committee indicated that it was able to "realise significant cost savings" in year two of the festival by bringing a more strategic focus to the event and implementing several key recommendations made after the inaugural festival.
These moves are said to have reduced government subsidies by an estimated $5 million - about 38 per cent less than 2015.