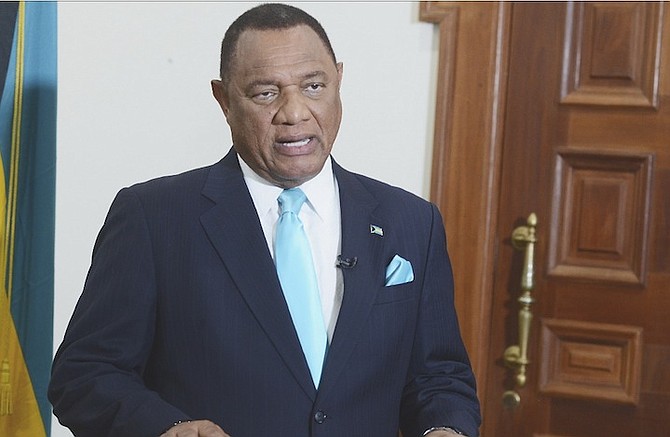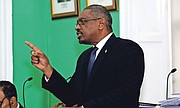 By SANCHESKA DORSETT
Tribune Staff Reporter
sdorsett@tribunemedia.net
FREE National Movement Leader Dr Hubert Minnis suggested yesterday that Prime Minister Perry Christie "check his facts" before making "untrue, reckless comments" about the Killarney MP's tenure as minister of health.
In an interview with The Tribune, Dr Minnis denied leaving the Maternity Ward at the Princess Margaret Hospital (PMH) in a bad state and questioned why the prime minister waited four and half years to fix the ward, if Mr Christie thought it was "so terrible".
In fact, Dr Minnis said the only reason the prime minister is renovating the hospital now, is because "elections are right around the corner."
His comments came one day after Mr Christie said that when the PLP won the election in 2012, and when Dr Minnis demitted office as minister of health, the latter left the Maternity Ward "in a state not fit for women to go and have babies."
He also said that one of the operating theatres was "so bad" it was only used in an emergency.
Mr Christie spoke about the problems facing PMH while in Grand Bahama for the signing of contracts worth about $4m on Monday for major improvements at the Rand Memorial Hospital (RMH).
"Mr Christie saying I left the hospital in a state not fit for people to go to have babies is the most outlandish, reckless, irresponsible untrue statement ever made by a prime minister," Dr Minnis said.
"Mr Christie has no facts and this demonstrates that he is unfit for leadership and carrying this country any further. I really now have to question whether it is true when people say he is delusional. I ask the question, if he said I left the hospital in such a terrible state, why did he do nothing for four and half years? Why is he just now signing a contract for renovation? It clearly demonstrates that he has no care for the people or for patients and all he wants to do is win an election. My life has been all about caring for people and for patients and improving the quality of their life. My life was about delivering babies to ensure they too can go on and live a viable, healthy life."
Dr Minnis said Mr Christie should "check his facts" or "stick to the script" before he embarrasses himself any further.
Mr Christie also said on Monday that compressors needed to fix a malfunctioning an air-conditioning unit in the $100m Critical Care Block at PMH should be in the country by the end of the week.
He said the air-conditioning unit failed when four of six compressors were hit by surges after a power outage, and questioned why the necessary equipment to counteract this was not installed by the Ingraham administration and Dr Minnis.