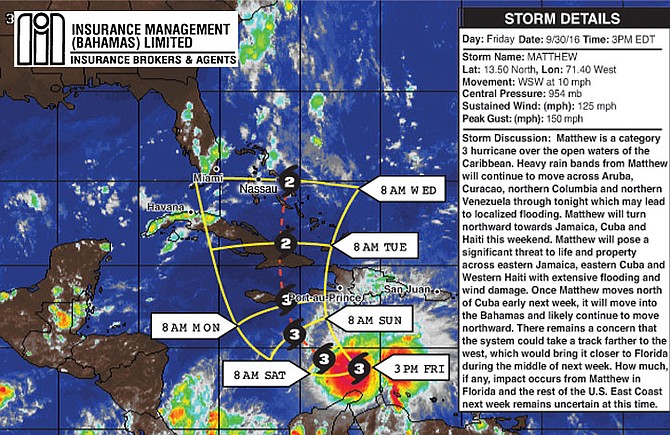 5pm Friday update:
HURRICANE Matthew grew into a powerful Category 4 storm on Friday as it crossed the Caribbean Sea on a course that could have it pounding Jamaica within days.
The centre of the hurricane was projected to pass just to the east of Jamaica early on Monday, but the storm was large enough that it could affect the entire island, and the first effects of the storm may be felt starting on Saturday, said Evan Thompson, director of the National Meteorological Service.
Jamaica activated its National Emergency Operations Centre and Prime Minister Andrew Holness called an urgent meeting of Parliament to discuss preparations for the storm.
Parts of the country, especially the eastern tip and higher elevations, could get up to eight inches of rain. Flooding and some landslides are likely. "We do consider it serious," Thompson said. "We are all on high alert."
The capital, Kingston, is in the southeastern corner of Jamaica and was expected to experience flooding. The government issued a hurricane watch on Friday afternoon, and a tropical storm watch was issued for Haiti's southwest coast form the southern border it shares with the Dominican Republic to the capital of Port-au-Prince.
As of 5pm, the storm was centered about 465 miles southeast of Kingston and about 75 miles north of Punta Gallinas, Colombia. It had maximum sustained winds of 140mph according to the US National Hurricane Center (NHC) in Miami.
Hurricane-force winds extended outward up to 35 miles from the centre and tropical-storm-force winds up to 195 miles.
It brought extremely high tides, storm surge and heavy rain to Colombia, prompting authorities to declare an alert as local TV broadcast images of cars and tree trunks surging though flooded streets in coastal areas. There were no reports of casualties.
By SANCHESKA DORSETT
Tribune Staff Reporter
sdorsett@tribunemedia.net
HURRICANE Matthew is expected to bring strong tropical storm force winds and heavy rain when it passes over the central and southeast Bahamas early next week, with residents being warned to begin hurricane preparations as soon as possible.
Matthew formed into a category one storm yesterday, but is expected to strengthen.
Deputy Director of the Department of Meteorology Basil Dean said that while there are varying projections on how strong Hurricane Matthew will be when it approaches The Bahamas early Tuesday morning, all models indicate that the central and southeast Bahamas will experience strong tropical storm force winds and heavy rains.
He said there is the potential for Matthew to become a category two hurricane or stronger during the weekend. Mr Dean is advising residents to be prepared for flooding and thunderstorms.
"Residents in Crooked Island, Acklins, Long Cay, Ragged Island, Exuma will be the first group of islands to be impacted on Tuesday," Mr Dean said.
"Later in the afternoon it will spread to Cat Island, San Salvador, Rum Cay and Eleuthera. Residents must ensure that all their pre-seasonal precautions have been taken. They need to ensure that their shutters are available and in good working condition and that all the debris is cleaned up around the yard.
"There is a general agreement and all the models have indicated that the central and southeast Bahamas will most certainly be impacted with strong tropical storm winds. Here in New Providence we will also get rain and tropical storm force winds but not as heavy. Abaco will also be in that mix, and Grand Bahama, Bimini and Andros will be out of it. It is too early to say what the intensity will be but we will be following the storm closely."
Mr Dean said he hopes by the time Matthew gets to The Bahamas it "would have weakened significantly".
At 5pm yesterday, Matthew had maximum sustained winds of 75mph and was centred 150 miles north-northeast of Curaçao, according to the US National Hurricane Centre in Miami. Hurricane-force winds extended out for 70 miles and tropical storm-force winds extended outward up to 185 miles.
Weather experts Accuweather said the storm crossed through the southernmost islands of the Lesser Antilles on Wednesday, dropping heavy rain and causing some wind damage. There were no immediate reports of damage or injuries as businesses, airports, schools and government offices closed throughout the area.
During Friday and Saturday, the centre of the storm will be well away from land, Accuweather said.
However, the large size and strength of the storm will cause breezy conditions with occasional squalls along the northern coasts of Venezuela and Colombia, as well as the southern coasts of Puerto Rico, the Dominican Republic and Haiti, the weather website added.
"Persons in Jamaica and Haiti, followed by eastern Cuba, and later the Turks and Caicos and the Bahamas should be prepared for deteriorating weather, which could feature hurricane conditions from Sunday into early next week," according to Accuweather.

"In many of these areas, damaging winds, coastal flooding, flash flooding and mudslides from Matthew will threaten lives and property."
The storm warning comes as the country gets ready to mark the anniversary of Hurricane Joaquin, which ripped through the Central and Southern Bahamas on October 1, destroying homes and buildings and leaving heavy flooding in its wake.
Matthew passed over the eastern Caribbean yesterday, causing at least one death. Officials in St Vincent said a 16-year-old boy was crushed by a boulder as he tried to clear a blocked drain.