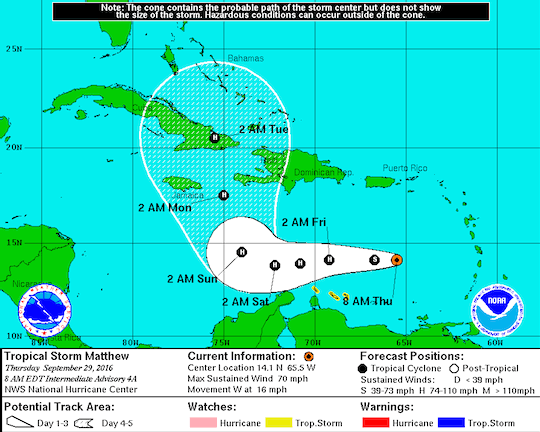 HURRICANE Matthew swirled westward into the open waters of the Caribbean early on Thursday after hitting islands in the south of the region with heavy wind and rain.
Matthew was taking an unusual southerly track through an area that is impacted by relatively few tropical storms compared to the rest of the Caribbean. A Tropical Storm Warning was issued for St Vincent and the Grenadine Islands. A Tropical Storm Watch was posted for the islands of Aruba, Bonaire and Curacao off the northern coast of Venezuela.
Tropical storm-force winds extended out for 185 miles but Matthew was not expected to pose a serious threat to land for several days at it moves to the west and gains strength. It increased from a Tropical Storm to a hurricane on Thursday afternoon and is forecast over the weekend to turn to the north and head for Jamaica, Cuba and Haiti.
The US National Hurricane Center in Miami said Matthew had maximum sustained winds of 75mph on Thursday afternoon. A wind gust of 89mph was reported in Martinique. Matthew was centred about 190 miles northeast of Curacao and was moving west at 17mph.
The storm crossed through the southernmost islands of the Lesser Antilles on Wednesday, dropping heavy rains and causing some wind damage. There were no immediate reports of damages or injuries as businesses, airports, schools and government offices closed throughout the area.
Dominica Prime Minister Roosevelt Skerrit told people on that island, where tropical storms have turned deadly in the past, to stay indoors as heavy rain caused flooding in some areas.
"We want to advise people to stay home as much as possible so as not to be exposed to the possible hazards out there. Be safe everyone and let us all pray for better weather conditions," Mr Skerrit said.
Many trees fell on the island of Barbados and there were isolated power outages, according to its National Emergency Operations Center.
The National Emergency Management Organization of St Vincent said about 90 people had been moved into emergency shelters because their homes were in low-lying areas that were expected to flood.