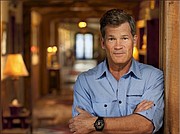 TWO videos allegedly fabricated to include billionaire Lewis Bacon's name in news stories dealing with insider trading and the Ku Klux Klan have been submitted to a Manhattan judge in an appeal to have a high-profile defamation case tried in New York rather than The Bahamas.
Mr Bacon's defence lawyers have described the "smoking-gun video", which previously was under seal, as capturing fashion mogul Peter Nygard observing what two off-screen voices call "fabricated" news clips that cast the hedge fund tycoon in a maliciously bad light according to a report in the New York Post yesterday.
The two billionaires have been at each other's legal throats for years, arguing over a myriad issues, including development rights for their abutting Lyford Cay estates.
The $50 million defamation suit against Mr Nygard was dismissed by Judge Cynthia S Kern, of New York State Supreme Court, last month on grounds the Bahamian court system offered a better forum for trying what Mr Bacon has alleged is "a harassment campaign against him".
The New York Post reported that the video, submitted on September 19 as part of Mr Bacon's appeal, shows Mr Nygard eating and drinking on a hotel bed with a younger woman while passing judgment on the fabricated news clips.
The fabricated clips can be heard but not seen on the video, which Mr Bacon's legal team obtained through discovery for the trial. One of the clips includes CBS footage on the insider-trading arrest of Rajat Gupta, but doctored to swap in Mr Bacon in place of Gupta.
Similarly, in an ABC report "Inside the New Ku Klux Klan", Mr Bacon's image has been superimposed in the piece immediately after correspondent Cynthia McFadden ends her lead-in with: "It may surprise you who's among their ranks."
"We were gonna' go further, but we're not sure how far to take it," says one of the off-screen voices, believed to be Jessar Nygard, who is seeking instructions from his father.
"That's not far," Mr Nygard responds.
Mr Nygard calls the allegedly doctored footage "good stuff" near the end of the six-minute video. And when an off-screen voice admits, "It's pretty dirty," Mr Nygard agrees: "Pretty dirty."
The sound track for the fabricated clips is consistent with a video currently available on YouTube, entitled "Is Louis Bacon Racist?" That video was supposedly uploaded by a Vincent Roy, but one of its creators said in a deposition that its editing was done "at Peter Nygard's instruction".
The New York Post reported that a spokesman for Mr Nygard said the fashion mogul did not know he was being videotaped while watching and commenting on the fabricated news clips. The spokesman also noted that Judge Kern previously excluded the two fabricated clips as evidence. Mr Nygard's lawyers, however, did not move to seal the video when it was filed as part of Bacon's appeal.
"Nygard did not put together these tapes, create or direct the content shown or post them," his spokesman said of the clips. "Bacon's submission of these tapes once again to Justice Kern as part of his attempt to persuade her to change her most recent ruling last month that dismissed the remainder of Bacon's frivolous claims is also a desperate gasp."
A spokesman for Mr Bacon had no comment.
Mr Nygard has until September 30 to file a brief in opposition to the pending appeal, and Mr Bacon has until October 14 to reply.