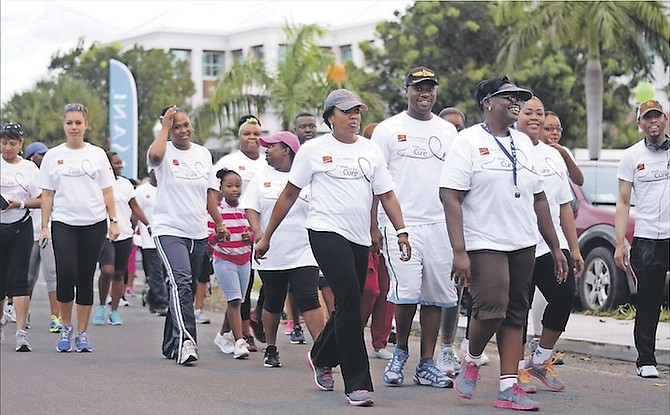 THOUSANDS of walkers and runners will hit streets and highways across the region this weekend united in a common cause to raise funds and awareness in a campaign against cancer.
The fifth annual CIBC FirstCaribbean's Walk for the Cure will see thousands across most of the 16 territories in which the bank is located, converging for early morning or afternoon walks and runs in support of local cancer charities.
The Bahamas' walk events are in Abaco, Eleuthera and Grand Bahama at 7am on Saturday and New Providence on Sunday. Proceeds from the event and all related local fundraiser activities will be divided amongst the Sister, Sister Breast Cancer Support Group in New Providence and Grand Bahama, Cancer Society of The Bahamas, Cancer Association of Grand Bahama, Cancer Society of Abaco, Cancer Society of Eleuthera, Cancer Society of Grand Bahama and The One Eleuthera Foundation.
The generous support of a number of regional and local sponsors coupled with the myriad fundraising events and activities organised by the bank's staff across the region has so far raised $402,715 of the $500,000 target set for this year.
Last year's efforts raised $400,000, which went directly towards early detection, care, support and raising awareness of cancer across the region.
"Persons all across the region have been signing up in their thousands and we are truly overwhelmed by the support for the walk in all of our territories," said walk Co-Chairs and CIBC FirstCaribbean executives Mark St Hill and Trevor Torzsas.
"In the short five years that we have been organising this event, it is truly remarkable how it has emerged as one of the region's leading cancer fundraising and awareness causes. What makes this walk so special for us is the way it rallies all sections of our regional communities together around this common cause. This is truly a family event. To see mothers, fathers, brothers, aunts and uncles - from babes in strollers to grandmothers and grandfathers - all walking for the cure is simply heart-warming."
The funds are also used to provide assistance, care and counselling to patients and their families as well as to raise awareness through education campaigns across the region.
Over the past five years the bank has raised over $1m from the event primarily supported by corporate donors and diverse fundraising activities and events hosted by staff members.