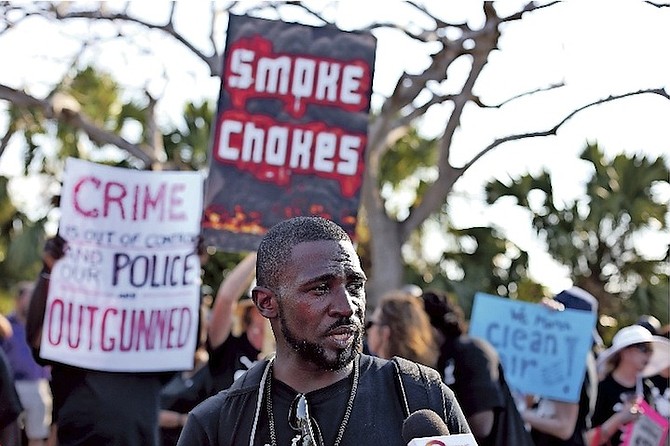 The government continues to confuse its role as public servant with demigod status, evidence of a tyrannical style of leadership says Malcom J Strachan . . .
The era in which we exist today allows us to participate in a more informed society.
Regular citizens have become active in voicing their opinions about the issues plaguing the country.
During the current administration's tenure, we have certainly been plagued by more than our fair share of issues.
We are watching our beautiful piece of paradise become a wasteland - under siege from a crime wave, corruption, hopelessness, rising unemployment, a failing economy, decrease in home ownership and an education system that is failing our youth.
Bahamians are understandably irate at the decline of their overall quality of life.
With most of the world climbing out of the ruins of the 2008-09 'Great Recession', the Bahamas is still trying to stagger its way back to economic stability.
The former opposition party and now governing Progressive Liberal Party (PLP) blazed the campaign trail with a laundry list of promises that was music to the ears of many Bahamians who desired change. The PLP's promises to essentially be the anti-Free National Movement government is what led to them becoming its replacement.
Retrospectively, despite the majority of the electorate buying into the PLP's vision for the Bahamas circa 2012, we have been taken for a ride.
Crime has gotten considerably worse. Murders under the PLP have far eclipsed the 490 that were plastered on billboards around the island during their previous campaign season - Saturday's fatal shooting in Freeport, which was the 40th murder in the first three months of 2017, took the total under the Christie administration to 609, according to The Tribune's records.
While there may be a direct correlation between the level of youth unemployment and the rise in crime, the government has been more concerned with throwing national parties, costing in excess of $60m through Carnival and other 'distractions'.
This is a far cry from the party that proclaimed that they believed in Bahamians. The mortgage relief programme designed to "reverse the effects of mortgage foreclosures" and "save the middle class", per the PLP's 2012 Charter for Governance, has failed miserably.
The PLP implemented Value-Added Tax (VAT) and promised that revenue from it would be used to reduce our national debt. Oddly enough, after accumulating $1.14bn in VAT since 2014, the national debt that was projected to be $5bn after the 2012-2013 fiscal year is now a whopping $7bn. The Prime Minister's most recent report on VAT has not satisfied most thinking Bahamians. However, Mr Christie would dare say that his report should silence those that lack confidence in his words. The country's self-proclaimed economically savvy government have crashed this ship into four credit downgrades - highlighted by a weak economy, still overly-dependent on tourism and shuttered hotel projects. Despite these realities that Bahamians experience every day, the government still arrogantly suggests that it has done a good job.
It continues to confuse its role as public servant with demigod status; either patronising us with more undelivered promises or becoming hostile under questioning from the public.
The latest to suffer under this government's tyrannical style of leadership is political activist, Omar Archer. Archer's unfiltered and controversial style of exposing the government has led him to becoming quite popular in the country of late. Prominent members of society, particularly the Prime Minister, have been in Archer's crosshairs, as he has been leaking startling information and threatened to expose more officials from the PLP, as well as the Democratic National Alliance. We knew it was only a matter of time before this was all going to come to a screeching halt.
On Friday, Archer was arrested. A warrant was put out for his arrest for allegedly being in possession of an unlicenced firearm. The warrant was issued after a photograph of Archer was posted on Facebook holding a shotgun in 2013. To think that the photo, which had been online for four years, would only provoke police action at this time after Archer's trashing of the government should concern Bahamians throughout this country. The firearm, as Archer had previously posted, was licenced, but that did not stop the authorities from seeking his capture.
While we would not seek to infer any political motives to the actions of the Royal Bahamas Police Force, it is concerning that Archer's arrest has taken place at this time. After all, he, like all of us, should be free to speak our minds, to challenge authority and speak truth to power.
Article 23. (1) of our Constitution speaks to our right of freedom of speech:
"Except with his consent, no person shall be hindered in the enjoyment of his freedom of expression, and for the purposes of this Article the said freedom includes freedom to hold opinions, to receive and impart ideas and information without interference, and freedom from interference with his correspondence."
Those on the frontlines have not been the only people that the government has been trying to suppress. Facebook activism has become one of the mechanisms by which many groups of regular citizens voice their displeasure with the way the country is being run.
The PLP has had to double down on their public relations efforts and deploy operatives in the social sphere to disparage those who would dare to speak ill against the Emperor and his court. Much to the fury of the people, the government sought to quietly table the Interception of Communications Bill under the guise of a crime fighting measure. Most fair-minded Bahamians see this as a ploy by the government to allow them to legally spy on our phone calls and emails without our knowledge or permission.
We are living within a system that allows for the oppression and punishment of its citizenry for challenging the autocratic PLP-styled leadership, despite our constitutional rights.
We, as a people, need to remove the veil from our eyes. Perry Christie has been in political office for as long as half the country has been alive, and he still wants to add another five years to his resume. The PLP is proving to be relentless in its mission to retain power. Technology has allowed information to circulate around the country much faster than in previous election cycles, presenting an obvious difficulty for a government that is not transparent and accountable.
Therefore, the PLP has one weapon at its disposal - it must tarnish the image of anyone that dares to challenges it. That is why the work of civic groups and activist groups, such as We March, are so important. That is why you, the average citizen, are so important. You control this country - not the politicians. We must remind them of this fact, over and repeatedly, before it's too late.
• Comments and responses to insight@tribunemedia.net