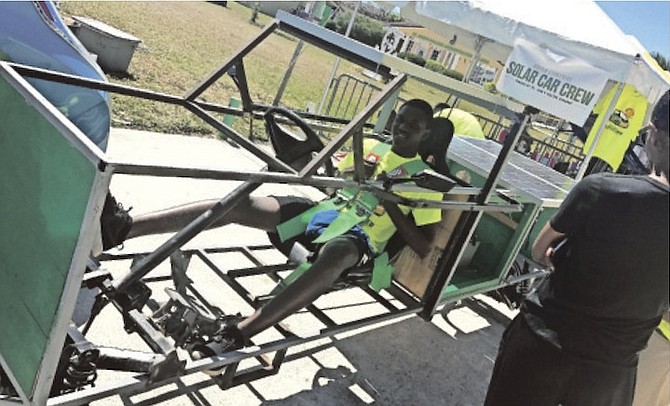 EASY Car Sales, the only provider of Electric Vehicles (EVs) in the Bahamas, featured the solar-ready, 100 per cent electric Nissan Leaf car at St John's College Mardi Gras Fair.
This year's Mardi Gras featured the school's Green Lightening Solar Crew who have built a solar-powered vehicle and are competing in the Solar Car Challenge, the top US project-based STEM initiative, helping to motivate students in science, engineering and alternative energy.
As part of the Solar Car Challenge, high school teams across America are building cars to compete against each other at Texas Speedway in July. St. John's College is the only school from this region invited to participate.
The Green Lightening Solar Crew put on a dazzling display of innovation at the Mardi Gras Fair with the unveiling of their solar car.
According to Pia Farmer, Director of the Easy Car Sales ECO Division, her company is actively supporting the efforts of Fr Shazz Turnquest and his Green Lightning Solar Car Crew to reach their fundraising goals.
"We are proud to support our best and brightest students to take up the renewable energy challenge," Mrs Farmer said.
"It's time to change how we think about transportation and move to cleaner, cheaper and stress-free transportation for the Bahamas. Electric cars are here to stay and can be powered by solar energy today. I have been driving my 100 per cent electric Nissan Leaf for almost three years and I charge it from solar panels at home."
Fr. Turnquest has a vision for the future. "Imagine solar powered vehicles designed and built by Bahamians!
"We owe it to our young people to help them to realise their potential by introducing to the technology of the future. Please help us to raise funds to make this journey to Texas, and beyond."
For more information visit www.greenlightningsolarcar.org and to donate please go to www.gofundme.com/greenlightningsolarcar