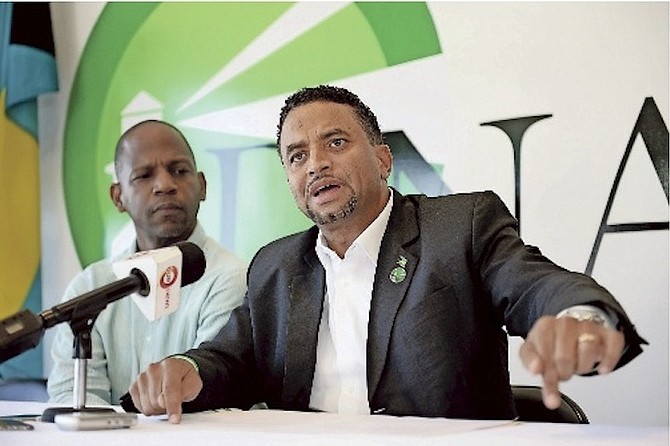 By RICARDO WELLS
Tribune Staff Reporter
rwells@tribunemedia.net
DEMOCRATIC National Alliance (DNA) Leader Branville McCartney yesterday alleged that the Progressive Liberal Party (PLP) was aiming to benefit from discrepancies highlighted in the current voter register, claiming that the party was notorious for its attempts to "steal elections" in the past.
Mr McCartney's comments came after a local newspaper reported hundreds of discrepancies in the current voter register.
The report noted that there were voters who were permitted to register multiple times and several cases of voters registered with dates of birth from the 1700s and 1800s. Parliamentary Commissioner Sherlyn Hall has said some of these discrepancies are due to human error and pledged to have the register corrected before the general election, which will be held in early May.
When questioned about this, Mr McCartney alleged: "The PLP is known to steal or try to steal elections. We know that as fact. The PLP, they have realised that they are losing this race. They are coming third as we speak."
Mr McCartney warned that public must remain vigilant on the matter. He said his party has already encountered similar discrepancies over the course of its campaign.
"Just (Tuesday) night, we had persons in one house living in different polling divisions. This ain't no street in between; same house, not couple of houses in the yard; same house, same bed. It is a mess.
"So we need to be very vigilant. We need to ensure that when we go door-to-door that we check, and any discrepancies, we must make it known. The PLP, they are known to try and steal elections, and they are good at it."
Mr McCartney said the issues now being uncovered were matters he and DNA Deputy Leader Chris Mortimer pointed out in 2015. He said he and Mr Mortimer raised these concerns years ago with Parliamentary Registration Department officials.
"The newspapers, for whatever reason, decided to put it on page seven. This is what you get now," he said.
Mr McCartney maintained that if elected, his party would implement fixed election dates, fixed constituencies and campaign finance laws.
Additionally, Mr McCartney predicted that "undecided, youth voters between the ages 18 to 35" would be the deciding voting bloc in the upcoming general election.He said the DNA was winning over this demographic as the campaign continues.
"More persons are undecided than supporting the different parties and many of them are the youth," said Mr McCartney. "We've been campaigning recently, over the last few months, and have been attracting the youths. They want change."
Mr McCartney was speaking at a press conference called to present his party's shadow Cabinet.