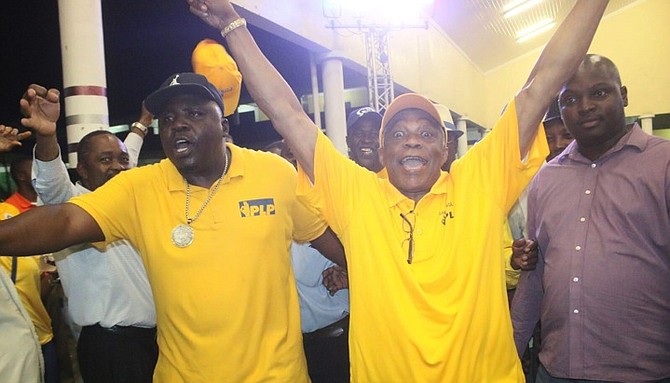 WHILE PLP Chairman Bradley Roberts has repeatedly attempted to implicate Free National Movement (FNM) Leader Dr Hubert Minnis as being connected to "Toggie" and "Bobo," the men at the heart of an alleged murder plot against billionaire Louis Bacon and lawyer Fred Smith, QC - the self proclaimed "gang members" were seen among governing party supporters on Tuesday night, The Tribune can confirm.
Wisler "Bobo" Davilma and Livingston "Toggie" Bullard, the two men who were allegedly hired by Canadian fashion mogul Peter Nygard to engage in criminal activities, attended the PLP's joint constituency meeting at the T G Glover Primary School.
Earlier this year, Mr Roberts castigated Dr Minnis over his "silence" regarding FNM candidate for Marco City Michael Pintard, who resigned as chairman of the FNM and from the Senate over his involvement in the lawsuit against Mr Nygard on March 21, 2016. His resignation, he insisted, was not an admission of guilt.
On the same day that Mr Pintard stepped down from the posts, Dr Minnis admitted to The Tribune that he had met Bullard at his home.
Dr Minnis said Bullard, his constituent in Killarney whom he said he met three times, contacted him to pass on a warning to Mr Pintard that he was about to be allegedly "set up" by a high ranking member of government and others.
Dr Minnis was adamant that the they never discussed Mr Nygard, adding that he did not hear of the alleged murder-for-hire plot until The Tribune published claims in an affidavit filed on March 9, 2016 by directors of Save the Bays.
"The now ratified FNM candidate for Marco City Michael Pintard was forced to resign from his Senate seat and also as chairman of the Free National Movement at the behest of their leader Dr Hubert Minnis when he was caught on tape negotiating a murder plot scam and scandal with known criminals," Mr Roberts said in a press statement in February.
"Recently Pintard has re-emerged in the media claiming that his involvement in the alleged murder plot will not have any 'significant impact' on his election bid. However, I beg to differ. This amounts to conveniently sweeping this scandal under the proverbial carpet.
"The reasons behind Pintard's resignation still exist today as it did back then and no amount of fluff or deflection from FNM Leader Dr Hubert Minnis or Michael Pintard himself can change that; both men bury their heads in the proverbial sand to their own peril and that of the FNM."
Mr Roberts continued: "Minnis remains suspiciously silent on the resignation and ratification of this embattled individual. Without explanation to his party or the public at large Dr Minnis has brought trouble into his camps once again and now seeks to have the good people of Marco City caught up in the fiasco.
"For a man who proposes anti-corruption legislation if he becomes Prime Minister, Dr Minnis is a joke, is duplicitous and cannot be trusted."

Mr Pintard was mired in controversy since he was named in the lawsuit filed last year against Mr Nygard and his lawyer, Keod Smith, by four Save The Bays (STB) directors - Joseph Darville, Romauld Ferreira, Fred Smith and Mr Bacon - and Reverend CB Moss, who is not a part of STB.
The lawsuit alleges that Mr Nygard engaged in a murder-for-hire scheme with Bullard and Davilma, and paid them to stage several hate rallies and commit such criminal acts as arson and harassment. It was revealed that the criminals were tracked down with the help of Mr Pintard.
Bullard and Davilma were compensated for their "evidence"; however, the men later alleged in documents filed in court by Mr Nygard they were paid for false testimony and that Mr Pintard negotiated the payoff.
When The Tribune asked Mr Pintard last year if he was compensated for his role in the lawsuit, he said he would address that in a later press release.
However a subsequent affidavit filed in the Supreme Court by a US investigator on behalf of STB in late march 2016 alleged that the "gang members" gave "false" evidence to Mr Nygard's Canadian lawyers because they feared losing government contracts controlled by Deputy Prime Minister Philip "Brave" Davis.
These combined "lucrative" contracts with the Ministry of Works are worth $132,000 per year, according to the affidavit by John Joseph DiPaolo, a Florida based investigator. It is also alleged that the men were paid "$40,000" by Mr Nygard to give this evidence in Canada last year.
As of January, Police Commissioner Ellison Greenslade said investigations into the matter were not going anywhere.
While the allegations were contained in the hundreds of pages of affidavits filed by directors of STB last March, those making the claims never made an official complaint with the Royal Bahamas Police Force, the police chief has said.